ESFA National Finals – All dates and venues confirmed!
Friday 17 April 2015By ESFA Office
Last Updated:
29/04/2015 14:01:28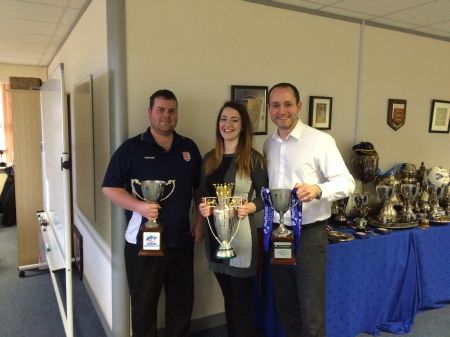 The National Competitions' Department are thrilled to announce that we now have a complete set of National Final dates and venues for all remaining ESFA competitions!
We have already had the privilege of holding some finals this season at Fleetwood Town, Doncaster Rovers and Cambridge United FC and we are now able to add some more fantastic host grounds to the list for this season such as the Madejski Stadium in Reading and Everton FC's Goodison Park.
The full list of National Finals with dates, venues and KO times is available to download here and also to view via our Diary Dates page.
We are currently working very hard to ensure all the paperwork, such as team sheets and itineraries are prepared, ready to be distributed to all teams and associations. Please bear with us while we compile this information.
We would like to take this opportunity to thank every school for their participation in the 2014/15 season and, as always, congratulate all the finalists on their successes throughout the year.
As you can see, we will be holding 15 finals over three days at Reading FC's Madejski Stadium and we would like to invite all schools to attend this event to help round off the season. The event is free, there will be competitions throughout the three days and of course, some excellent football finals on show!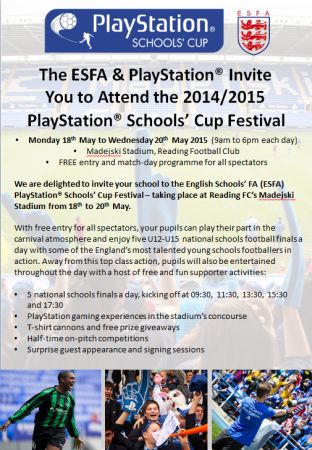 Finally, the Competitions' Department are very excited to be in the final stages of preparing information for the upcoming 2015/16 season, entry for which will be opening shortly. We will keep the website & Twitter updated with details of next season's competitions and, by working with our sponsors PlayStation, The Premier League, Danone and Munich Trophies, we hope to make 2015/16 the biggest and best ESFA season yet!

Archived News
Seasons
Season 2014-2015
April 2015
17th :: ESFA National Finals – All dates and venues confirmed!