ESFA Isle of Wight Festival 2015
Friday 17 April 2015By ESFA Office
Last Updated:
29/04/2015 13:01:28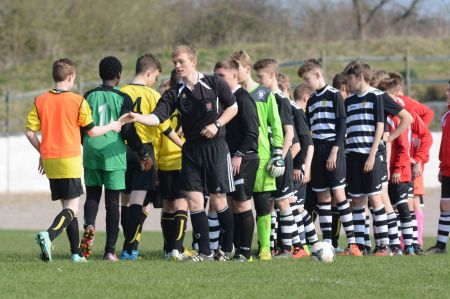 Last week, the ESFA descended on the Isle of Wight to host the annual festival of U13 and U14 football! An excellent experience was had by all teams and supporters and you can find the report about the matches below, courtesy of Mike Simmonds of Nottinghamshire County Schools' FA.
At Under 14 level, West Cornwall were the only side to finish the Festival with a 100% record but Tameside were also undefeated although they did draw 2-2 with Vale of White Horse. The latter had the very unusual occurrence in that they drew all four matches which is possibly unique at the Festival. Although there were a few one-sided games, in every case, the opponents praised the efforts of the defeated side. The small North Somerset Association struggled at times although they always battled hard until tiredness and injuries on the last day led to a 3-0 defeat. They did, however, draw with Vale of White Horse so that no squad went home without any success at all.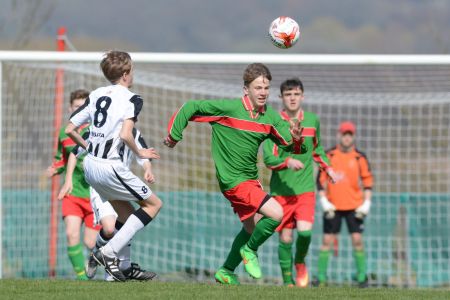 In the Under 13 section of the Festival, the London borough of Newham were undoubtedly the strongest side as befits their record of reaching the national semi-final of the English Schools' F.A. Under 13 Inter-Association Trophy but they were held to a 2-2 draw by West Cornwall who had one of their best ever records at the Festival winning of their7 of their 8 games combined over the two age groups.
The Festival was blessed with wonderful Isle of Wight weather throughout although the dry pitches were perhaps not always conducive to good passing football. Coventry were the winners of the Bert Worrall ' Fair Play Award' with Bridgwater Under 14s the runners-up followed by West Cornwall and Yeovil and District Under 14s jointly in third place and Bridgwater Under 13s in fifth. All these sides receive cash awards for their Association courtesy of PGL who hosted the sides in residence at their Little Canada Centre in Wootton.
Photos across the event were taken by Garry Griffiths of ThreefiveThree Photography and his excellent quality images, as used in this report, are available for you to purchase via his website. You can also email Garry directly for further information.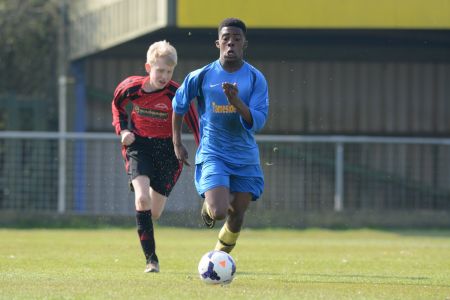 Photographer, Barbara Close was also in attendance at the festival and a link to purchase her photos is available here. Any queries can be emailed to her.
Match Results – Tuesday 7 April
Under 14 Matches
| | | | | |
| --- | --- | --- | --- | --- |
| Derby | 1 | Yeovil and District | 2 | Medina High School |
| Gosport and Fareham | 1 | West Cornwall | 2 | Ryde Saints F.C. |
| Tameside | 2 | Plymouth | 1 | Isle of Wight Community Club |
| North Somerset | 1 | Vale of White Horse (Oxon) | 1 | Brading F.C. |
| Coventry | 1 | Bridgwater | 3 | |

Under 13 Matches
| | | | | |
| --- | --- | --- | --- | --- |
| North Somerset | 4 | Havant and District | 3 | Seaview F.C. |
| Bridgwater | 1 | Newham | 4 | Shanklin F.C. |
| West Cornwall | 2 | Yeovil and District | 2 | Newchurch F.C. |
Match Results – Wednesday 8 April
Under 14 Matches
| | | | | |
| --- | --- | --- | --- | --- |
| Coventry | 0 | Yeovil and District | 5 | Newchurch F.C. |
| Tameside | 2 | Vale of White Horse | 2 | Shanklin F.C. |
| Derby | 1 | Bridgwater | 0 | Cowes F.C. |
| West Cornwall | 3 | North Somerset | 0 | Newport F.C. |
| Havant and District | 2 | Plymouth | 2 | Seaview F.C. |

Under 13 Matches
| | | | | |
| --- | --- | --- | --- | --- |
| Bridgwater | 1 | Gosport and Fareham | 5 | Ryde Saints F.C. |
| Yoevil and Distrcit | 0 | Nehwam | 2 | Isle of Wight Community Club |
| West Cornwall | 3 | North Somerset | 2 | Medina High School |
Match Results – Thursday 9 April
Under 14 Matches
| | | | | |
| --- | --- | --- | --- | --- |
| Gosport and Fareham | 0 | Tameside | 5 | Newport F.C. |
| Vale of White Horse | 1 | Yeovil and District | 1 | Isle of Wight Community Club |
| West Cornwall | 2 | Bridgwater | 1 | Brading F.C. |
| Derby | 2 | North Somerset | 0 | Newchurch F.C. |
| Coventry | 1 | Plymouth | 3 | Seaview F.C. |

Under 13 Matches
| | | | | |
| --- | --- | --- | --- | --- |
| Yeovil and District | 2 | Havant and District | 3 | Medina High School |
| West Cornwall | 2 | Newham | 2 | Ryde Saints F.C. |
| Bridgwater | 1 | North Somerset | 0 | Shanklin F.C. |
Match Results – Friday 10 April
Under 14 Matches
| | | | | |
| --- | --- | --- | --- | --- |
| Gosport and Fareham | 0 | Tameside | 5 | Newport F.C. |
| Vale of White Horse | 1 | Yeovil and District | 1 | Isle of Wight Community Club |
| West Cornwall | 2 | Bridgwater | 1 | Brading F.C. |
| Derby | 2 | North Somerset | 0 | Newchurch F.C. |
| Coventry | 1 | Plymouth | 3 | Seaview F.C. |
Under 13 Matches
| | | | | |
| --- | --- | --- | --- | --- |
| Newham` | 3 | North Somerset | 0 | Seaview F.C. |
| Bridgwater | 4 | West Cornwall | 6 | Medina High School |

Mixed U13/U14 Match
| | | | | |
| --- | --- | --- | --- | --- |
| Yeovil and District | 1 | Tameside | 5 | Brading F.C. |