A message from the Chairman: February 2015
Thursday 26 February 2015By ESFA Office
Last Updated:
26/02/2015 15:26:23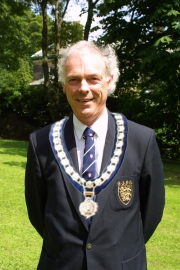 Mike Spinks - Chairman
The U18 boys' international squad began the month with a friendly against Australia Schools. The match, which was hosted near to our headquarters by Stafford Town Football Club, resulted in a 2-1 defeat. There followed a 5 day coaching course at Lilleshall National Sports Centre in Shropshire. After comfortable wins against the Royal Air Force and Royal Navy on Saturday 10 January, the squad pitted their wits at Lilleshall against Keele University, Chesterfield and Wolverhampton Wanderers Under 18s defeating each some ease.
The U15 girls' international team had the fantastic opportunity during the recent half-term break to travel to Portugal for 4 days of warm weather training. I must say a huge thank-you to the schools sports tours travel company "inspiresport" who very kindly looked after the girls and ensured that they came home with memories that will last a lifetime. Three coaching sessions took place at Benfica's Training Ground, followed by 2 games against club opposition in Lisbon. The girls recorded comprehensive wins against a club team from the city of Sintra and then the famous Benfica club in a game played on the Stadium of Light's 4G pitch. You can read the match reports elsewhere in this e-zine. At this point I must record the fantastic experience the girls had to be accompanied throughout this tour by 2 England football legends, Rachel Brown-Finnis (with 85 caps as England goalkeeper) and Rachel Yankey (129 caps). I would highly recommend a look at the Question and Answer session that our young Under 15s had with the two Rachels.
Following the retirement of our Chief Executive, John Read, the ESFA is now advertising for a successor. Applications close on Friday 6th March, with interviews towards the end of next month.
The ESFA headquarters in Stafford is a very busy place right now making arrangements for Under 15 girls and Under 18 boys Internationals coming up next month. The girls fly to Dublin to play a return fixture against the Republic of Ireland who we hosted in 2014. Then they have a tournament in Glasgow during the Easter vacation against all the home nations. The lads are up against Northern Ireland Under 18s on Friday 6th March at Eastleigh Football Club in Hampshire. Tickets are still available for this match although I have to report a complete sell-out for the game against Wales at Truro City Football Club on Friday 27th February. Elsewhere within our office the Competitions Department are piecing together all the arrangements to stage over 40 National Finals.
Archived News
Seasons
Season 2014-2015
February 2015
26th :: A message from the Chairman: February 2015