A Message from the Chairman: November 2014
Sunday 30 November 2014By ESFA Office
Last Updated:
30/11/2014 11:51:34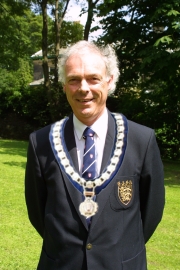 Mike Spinks - ESFA Chairman
Welcome to the November 2014 monthly e-zine from the English Schools Football Association (ESFA). You will probably by now have read on the ESFA website the news that our Chief Executive, John Read, has announced his retirement from the organisation.
John has completed 13 years of service to the Association. He was appointed in August 2000 when he was a serving officer with the Royal Air Force. He took up his post in January 2001, and since then has forged friendships with many high-ranking officials at The Football Association, the Premier League, the Football League and the Professional Footballers' Association.
During his tenure at the ESFA, John worked closely with our major sponsors to enhance our programme of activities – Coca-Cola, Sainsbury's, Tesco, Danone and PlayStation to name a few. He also set up opportunities for schools to travel abroad and created partnerships between the ESFA and several other countries, including the USA and China.
John enjoyed very good relationships with members of the Schools Association Football International Board (SAFIB) and many of these will want to wish John well when they hear of his retirement. He was a strong supporter of the ESFA Under 18 boys' team but one of John's dreams was fulfilled when a Girls' Under 15 national side was set up and began playing International matches. John was immensely proud of the part he played in bringing that ambition of his to fruition.
John represented the ESFA on the Council of The Football Association, and was a member of the National Game Board, as well as the Development, Youth and Small-sided Committees.
John was Chief Executive when I joined the staff of the ESFA as National Competitions' Manager in 2002. For 10 years I thoroughly enjoyed working under John's leadership and direction and I would wish to place on record my gratitude for the experiences we enjoyed together. John was a friend and colleague as well as my boss.
John has chosen to retire at this time to allow him the opportunity to follow many of the other interests in life that he enjoys. Everyone within the ESFA family would, I am sure, like to join me in thanking John for his 13 years service to the Association and wish him all the very best for the future.
Mike Spinks
ESFA Chairman
Season 2014-2015

Archived News
Seasons
Season 2014-2015
November 2014
30th :: A Message from the Chairman: November 2014