Football Remembers Week
Wednesday 29 October 2014By ESFA Office
Last Updated:
03/11/2014 15:38:40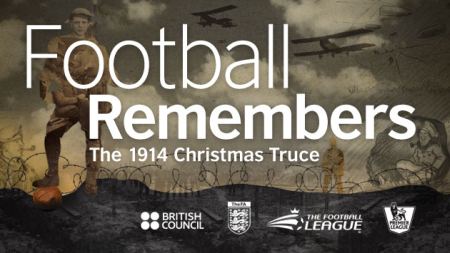 Football is to commemorate the centenary of one of the most iconic moments of the First World War - the 1914 Christmas Truce football match - with a week of remembrance activities in December 2014.
'Football Remembers Week' will take place from 6-14 December. A collaboration between the Premier League, The FA, the Football League and the British Council, its aim is to engage with and inform football players and fans alike about what took place on Christmas Day 1914 in Flanders, Belgium.
There are two key projects that have been launched in connection to this for schools and colleges to get involved in, details of which are below;
A Moment in History
For the matches that take place in the Barclays Premier League, the Championship and the FA Cup Second Round from December 6-8, all 22 players who start the match will pose together in a group photograph as a mark of respect to those that played in the 1914 Christmas Truce match. The pictures will be uploaded to a special website.
Schools, children, teachers and football fans alike are asked to upload their own pre-match pictures via Twitter, to @BritishCouncil, @Football_League, @Premierleague, @FA or @SchoolsFootball, using the hashtag #FootballRemembers, which will then be displayed alongside professional teams on the same website. Any match of any size can be included in this event from Schools' Football, Sunday league, five-a-side matches to kick-abouts in the back garden.
The site will act as a moment of record of football in 2014, a century on from the First World War, and will be preserved for future generations.
Schools can access this classroom resource for inspiration and ideas and teachers can also download and use this education pack to find out more about the Christmas Truce.
Make a Footballer Poster Competition
The Find a Footballer Poster competition is a simple and creative way of engaging young people with history through football. By taking part in this fun and easy classroom activity, your school's work could be displayed at the National Football Museum in Manchester or the Hampden Museum in Glasgow.
1. Ask your pupils to create a poster of a First World War Footballer. There are case studies available in the Football Remembers Pack.
2. Take a photo of the poster
3. Tweet the photo to @BritishCouncil and @FootballMuseum
You can enter as many times as you like and the winning designs will be selected from the images received by a panel of judges appointed by the National Football Museum. There are two deadlines for this competition remaining:
13 February 2015 and 22 May 2015
Full information on this competition can be found here.
Other Remembrance Events
As well as these competitions, there is a plethora of other events taking place in connection with this humbling occasion;
Christmas Truce Memorial unveil
The UK's first memorial to the Christmas Truce will be officially unveiled.
The newly commissioned memorial, designed by a ten year-old Newcastle schoolboy as part of nationwide competition, will reside permanently at the National Memorial Arboretum in Staffordshire.
Christmas Truce International Tournament in Ypres
UK Parliamentary Reception
Christmas Truce Tournament Qualifying Competition (14-16 November)
International England Fixtures
The FA and Army FA Joint Activities
The Football Remembers education pack is available to download here and all information on these events can be found on the website of the British Council.