ESFA PlayStation Inter-Association Trophy Final, 1st Leg
Friday 25 April 2014By ESFA Office
Last Updated:
28/04/2014 12:19:27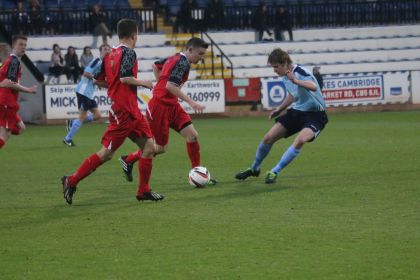 Action from the game
Cambridge & District Schools 2 Liverpool Schools 2
With 79 minutes and 59 seconds on the clock, it looked as if Cambridge & District under-15s would be taking a slender one-goal lead into the second leg of the ESFA PlayStation Inter-Association Trophy final in three weeks.
Alas, it was not to be. A superb solo effort from Liverpool winger Liam Morris just as the clock ticked into added time ensured it finished honours even at the R Costings Abbey Stadium.
It was a hammer blow for the Cambridge & District boys, whose efforts richly merited them going up to Goodison Park on Friday, May 16 in the driving seat.
But what should be not lost sight of is the fact they are still very much in this tie, and still very much in with the opportunity to write their names in the history books.
It perhaps seems unfair to pick out individuals given the exceptional team performance, but there are several who deserve special mention.
Goalkeeper Sam Roach, for one, who showed exactly why Football League outfit Leyton Orient have him on their books.
Having such an assured presence in between the posts feeds confidence throughout the side, and on the occasions when he was tested with crosses or the visitors managed to get in behind the defence, he dealt with everything calmly and effectively.
West Ham United youngster Anthony Scully, back in the side after missing the semi-final victory over South London, provided a great creative outlet as well, while Callum Fullwood's two goals were just reward for his efforts in leading the line.
Before the match, manager Mark Critoph was slightly concerned about how his youngsters would cope in front of a big crowd at the Abbey or with the physicality of the Liverpool side, but straight away it was clear he did not need to worry on either count.
Cambridge & District gave an early glimpse of what they could do when Scully fired into the side netting following a neat one-two with Lewis Ebanks in the fourth minute.
At the other end, Roach passed the first test he was posed, comfortably gathering Callum Lucy's effort from the edge of the box following a testing cross from Tranmere Rovers youngster Udoyen Akpan.
Liverpool skipper Kevin Cringle's long throws into the box were also a source of danger and the hosts were left breathing a sigh of relief on 16 minutes when Gerrard Gardner shot over after one caused panic in the area.
Roach's ranging goal kicks gave Cambridge & District something to play off and they almost broke the deadlock when Cringle mis-headed one, followed by Liverpool keeper Michael Hall missing the ball before his defence mopped up and cleared.
Then Gardner, Jamie Heron and Lucy all went close as Liverpool started to open up the home side, but they would be made to pay for not taking those chances seven minutes before the break.
Scully played in Cambridge & District skipper Dan Maund, whose initial effort from the edge of the box was parried by Hall. However, Fullwood beat the defender to the rebound and although Hall got a touch, he could not prevent the ball from creeping over the line.
A great time to score, as they say, and they pushed further ahead just prior to the midway point of the second half.
Alex Milward cut in from the left, drew out the defence and goalkeeper, picking just the right time to thread the pass to the waiting Fullwood, who duly obliged with the tap-in.
The hosts were in dreamland, but were given a rude awakening on 67 minutes when Cringle poked home from a corner after Roach had parried and Jason Pacey headed off the line.
Despite being rattled, it looked as if Cambridge & District might just hold on. Yet Morris dashed those hopes, finishing off a counter attack by breaking down the left before curling home a shot which left Roach no chance.
Cambridge & District: Roach, Milward, Pacey, Poole, Lowson (Hardwick 80), Bicknell (Anderson 56), Maund, Coulson, Ebanks (Horton 56), Scully (Habergham 78), Fullwood (Taylor 68).
Substitute not used: Crisp.
Liverpool: Hall (Wharton 41), Doyle, Cringle, Fleming, Gallagher (Doris 63), Morris, Lucy, Walsh, Heron, Akpan, Gardner.
Substitute not used: Wilson, Kirkpatrick, Marshall.
Referee: Graham Horton.
Attendance: 797.
Archived News
Seasons
Season 2013-2014
April 2014
25th :: ESFA PlayStation Inter-Association Trophy Final, 1st Leg