World Schools Championship Futsal
Wednesday 23 April 2014By ESFA Office
Last Updated:
28/04/2014 12:19:27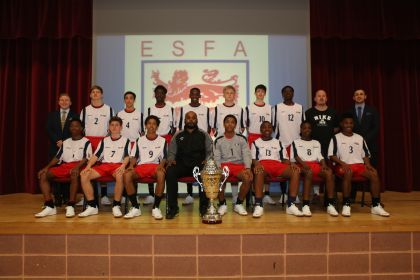 Eastbury Comprehensive School in their new kit!
Eastbury Comprehensive School line up for a squad photo having been presented with their England shirts in advance of their trip to Sardinia to compete in the World School Futsal Championships.
The Boys' team have also been soaking up their time in the limelight as they are pictured here outside West Ham United FC in their England tracksuits. They were able to parade the trophy around the pitch before the game on Saturday with Crystal Palace.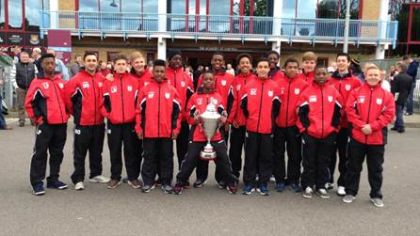 The Team at West Ham United FC with the Trophy
Below is the week long schedule for Championships taking place in Sinnai, Sardinia, Italy between 26th April and 3rd May 2014. The group matches have also been drawn and the Boys' will face Romania, Guatemala, Italy and Brazil in Group B.
Day 1

Welcome

Training

Day 2

Opening Ceremony

Competition

Day 3

Competition

Day 4

Competition

Day 5

Competition

Day 6

Cultural programme

'Meeting of the Nations Evening'

Day 7

Playoff Matches

Final Girls / Boys

Closing Ceremony, Farewell Party
SUNDAY 27 APRIL 2014

Number

Time

Group

Match

Court

1

09:30

A

IRAN - BELGIUM

MARACALAGONIS palasport

2

09:30

B

BRAZIL - GUATEMALA

SINNAI - Via Giotto

3

09:30

C

FRANCE - ISRAEL

SINNAI - Via Olimpia

4

10:45

A

ARMENIA - NETHERLANDS

MARACALAGONIS palasport

5

10:45

B

ROMANIA - ITALY

SINNAI - Via Giotto

6

10:45

C

CROATIA - KOSOVO

SINNAI - Via Olimpia

7

12:00

D

TURKEY - CHINA

MARACALAGONIS palasport

8

12:00

D

HUNGARY - BELGIUM FC

SINNAI - Via Giotto

9

12:00

C

BELGIUM FL - SLOVAKIA

SINNAI - Via Olimpia

MONDAY 28 APRIL 2014

Number

Time

Group

Match

Court

10

09:00

D

TURKEY- BELGIUM FC

MARACALAGONIS palasport

11

09:00

A

ARMENIA - SWEDEN

SINNAI - Via Giotto

12

09:00

B

ROMANIA - ENGLAND

SINNAI - Via Olimpia

13

09:00

C

FRANCE - KOSOVO

SINNAI - Via Perra

14

10:15

D

HUNGARY - RUSSIA

MARACALAGONIS palasport

15

10:15

A

IRAN - NETHERLANDS

SINNAI - Via Giotto

16

10:15

B

BRAZIL - ITALY

SINNAI - Via Olimpia

17

10:15

C

CROATIA - BELGIUM FL

SINNAI - Via Perra

18

11:30

C

ISRAEL - SLOVAKIA

SINNAI - Via Perra

19

16:00

D

BELGIUM FC - RUSSIA

MARACALAGONIS palasport

20

17:15

C

KOSOVO - BELGIUM FL

SETTIMO – Via Lussu

21

17:15

B

GUATEMALA - ROMANIA

SINNAI - Via Olimpia

22

17:15

C

FRANCE - SLOVAKIA

MARACALAGONIS palasport

23

17:15

A

BELGIUM DG - ARMENIA

SINNAI - Via Giotto

24

18:30

C

ISRAEL - CROATIA

SETTIMO – Via Lussu

25

18:30

D

CHINA - HUNGARY

MARACALAGONIS palasport

26

18:30

A

NETHERLANDS - SWEDEN

SINNAI - Via Giotto

27

18:30

B

ITALY - ENGLAND

SINNAI - Via Olimpia

TUESDAY 29 APRIL 2014

Number

Time

Group

Match

Court

28

09:00

C

FRANCE - BELGIUM FL

MARACALAGONIS palasport

29

09:00

D

TURKEY - RUSSIA

SINNAI - Via Giotto

30

09:00

A

IRAN - SWEDEN

SETTIMO – Via Lussu

31

09:00

B

BRAZIL - ENGLAND

SINNAI - Via Perra

32

10:15

C

SLOVAKIA - CROATIA

MARACALAGONIS palasport

33

10:15

D

BELGIUM FC - CHINA

SINNAI - Via Giotto

34

10:15

A

NETHERLANDS - BELGIUM DG

SETTIMO – Via Lussu

35

10:15

B

ITALY - GUATEMALA

SINNAI - Via Perra

36

11:30

C

KOSOVO - ISRAEL

MARACALAGONIS palasport

37

16:00

D

TURKEY - HUNGARY

SINNAI - Via Giotto

38

17:15

B

BRAZIL - ROMANIA

SETTIMO – Via Lussu

39

17:15

C

FRANCE - CROATIA

SINNAI - Via Giotto

40

17:15

A

IRAN - ARMENIA

SINNAI - Via Olimpia

41

17:15

C

BELGIUM FL - ISRAEL

SINNAI - Via Perra

42

18:30

B

ENGLAND - GUATEMALA

SETTIMO – Via Lussu

43

18:30

D

RUSSIA - CHINA

SINNAI - Via Giotto

44

18:30

A

SWEDEN - BELGIUM DG

SINNAI - Via Olimpia

45

18:30

C

SLOVAKIA - KOSOVO

SINNAI - Via Perra