Premier League Players' Kit Scheme Now Open
Monday 07 April 2014By ESFA Office
Last Updated:
28/04/2014 12:19:27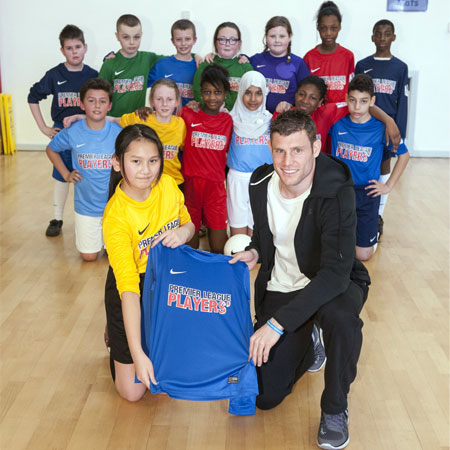 James Milner supporting the Premier League Players Kit Scheme
The latest window of the Premier League Players' Kit Scheme officially opened for applications this month. The scheme, initially launched in 2011, provides support for junior football and to date has provided kit and equipment to more than 2,000 junior teams.
The Premier League Players' Kit Scheme will provide new Nike kits for schools, further education institutions and district representative sides who can apply online for their kits at: http://pl.fluidsurveys.com/s/PremierPlayersKitScheme/
The 20 Premier League clubs will also provide new kits for 200 schools involved in their Premier League Schools Sport programme.
Manchester City's James Milner gave his backing to the scheme saying he is fully aware of the positive impact a new kit for the school football team can have, having enjoyed one himself as a player on his school team in Leeds.
"I was on the team at Westbrook Lane School a couple of years ahead of my time and the second year I played there I remember we got a new kit," Milner said. "It was maroon and light blue, the school colours, and I remember feeling great to put on a new kit. We were no longer having to rifle through the kit bag, looking for two matching socks, or socks with holes in them!"
Milner was speaking at Ravensbury Primary School, in the shadow of City's Etihad Stadium, which is part of the schools' sport programme run by City in the Community, Manchester City's charitable foundation. At the school, Milner chatted to the pupils and got involved in the coaching sessions laid on by the CITC coaches for the schoolchildren.
Announcing this year's scheme opening, Premier League Chief Executive Richard Scudamore said: "The Premier League Players' Kit Scheme has been providing kit to junior teams for the past three years and it is great to see this latest supply being made available to schools' teams. The thrill of getting a new school football kit, and the chance to wear the Premier League badge on their shirt, will hopefully motivate children to continue participating in sport, football or otherwise."
Eligibility criteria
Applicant must:
Applicants must not have received a Premier League Players' Kit Scheme kit in the previous two seasons.
Applications are welcome from any English and Welsh state, academy or free schools, higher education colleges or district representative teams.
There are a limited number of team strips available, so please be minded that this is a competitive application where team strips will only be awarded to those who complete the application correctly and are considered to have the most need of a new kit. Please ensure you tell us all about the school, college or representative team you are nominating and why they would benefit from a new team strip.
Recipients can only receive one grant per institution.
Anyone submitting multiple applications will be automatically disqualified.
Each grant recipient will receive x 1 full-team strip (shirts, shorts, socks).
Public schools are not eligible.
This window closes at 5pm on Sunday 4 May.
For more information please contact: plcf@premierleague.com

Archived News
Seasons
Season 2013-2014
April 2014
07th :: Premier League Players' Kit Scheme Now Open