Sport Relief Fundraising by Derby & Nottinghamshire SFA
Monday 31 March 2014By ESFA Office
Last Updated:
01/04/2014 16:48:42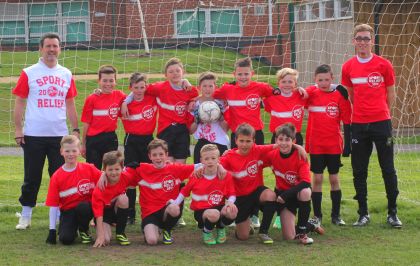 Derbyshire SFA U11's
On Saturday the 22nd March Derby School's FA U11's organised a friendly game against local rivals Nottingham School's FA, to take place at Derby Moor community school and sports college in Derby.
The fixture was purposefully planned on the SPORT RELIEF weekend so that Derby School's could take the opportunity to raise funds for SPORT RELIEF as part of their community programme.
With funds donated by Derby School's U11's team, matched by their sponsor (www.grassrootsfootballcoach.com – the online coaches support website) the U11's purchase SPORT RELIEF 'T' Shirts to play the fixture while at the same time parent volunteers gathered donations from visiting parents and spectators by selling teas, coffees and snacks and collecting red nose bucket donations and spontaneous donations from the team members parents.
The £160 that the U11's and sponsor donated was used to buy SPORT RELIEF 'T' shirts for the squad from Sainsburys.
Plus on the day, volunteer parents raised another £126 from the parents, spectators and official of both the Derby and Nott's U11's and U13's teams that played Saturday morning.
All the above culminated in a great morning of football and successful fund raising exercise. Well done to all who organised and took part in the event.
Archived News
Seasons
Season 2013-2014
March 2014
31st :: Sport Relief Fundraising by Derby & Nottinghamshire SFA