Solihull College win the fourth Final in Coventry
Tuesday 18 March 2014By ESFA Office
Last Updated:
01/04/2014 16:48:42
Solihull College v Accrington & Rossendale College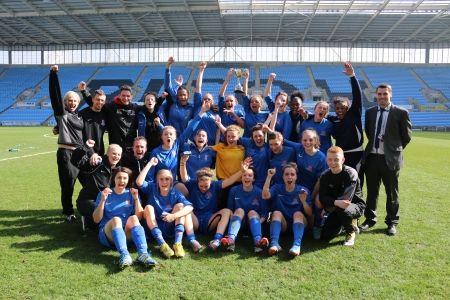 Solihull College
Both teams started well in the opening 10 minutes with neither of them managing to break the defensive lines.
In the 11th minute of the game Solihull's Perrie Craythorne had a half shot comfortably saved by Lucy Chadwick from outside the box.
Free kick for Accrington & Rossendale on edge of the box was taken by Eve Kennerley who blazed over the bar on 16 minutes.
Shortly after the restart Solihull's Perrie Craythorne broke down the wing but the cross was just too high for Georgia Jones on the edge of the 6 yard box.
In the 21st minute the games first real chance fell to Accrington & Rossendale's Chloe Adams who went through one on one but Sophie Baggaley in the Solihull goal made a fantastic save with the ball being scrambled clear.
Minutes later Chloe Adams superbly ran from inside her own half taking on several Solihull defenders but was finally tackled inside the box.
The game really opened up in the last 10 minutes, both teams created a few half chances but both keepers saving easily.
26 minutes gone and there was a great bit of link up play for Solihull as Lia Lewis exchanged passes with Perrie Craythorne who finally had a shot from the edge of the box but fired a few yards wide.
Solihull enjoyed the better of the possession at this point in the game but Accrington & Rossendale looked very threatening on the counter attack.
GOAL for Solihull!!! 32 minutes gone and a great bit of build up play lead to Georgia Jones having a point blank shot superbly saved by Lucy Chadwick but unfortunately the rebound fell to the Solihull captain Poppy Jones who tapped into an empty net from 8 yards to give Solihull the lead.
Since the goal had gone in Solihull controlled the game keeping Accrington & Rossendale on the back foot unable to create many chances.
40 minutes gone and Solihull create a fantastic chance for a second goal. Great through ball from Lia Lewis was controlled excellently by Perrie Craythorne who flicked an overhead Georgia Jones who goes through on goal but can't find the finish.
Immediately Accrington & Rosendale countered, Rio Hardy goes through on goal but Solihull keeper Sophie Baggaley rushes out to gather the ball before she can get any real shot away.
Corner from Accrington & Rossendale on 44 minutes was whipped in and after scrappy defending the ball was half cleared to the feet of Hannah Godfrey who has the shot which is easily gathered by the keeper.
HALF TIME: Solihull College 1-0 Accrington & Rossendale College.
Both teams were very evenly matched at this point in the game. Solihull had the better of possession in the first half and deserved a goal but Accrington & Rossendale felt like the game should have been even after spurring a few good opportunities.
Accrington & Rossendale enjoyed the better exchanges in first opening 5 minutes after the break but Solihull's defensive line put a stop to any major threat.
52 minutes gone and nearly a spectacular goal by Solihull's Eve Kennerley, the cross came in from the right flank and nearly found the far left hand corner of the goal. Very unfortunate not to have gone in but surely she didn't mean it.
Accrington & Rossendale's Emily Hutton had a half chance save easily saved by Sophie Baggaley.
Fans from Accrington & Rossendale really turned up the volume inside the Ricoh Arena at this point trying to spur their team on for an equaliser.
Solihull's Perrie Craythorne chased a long ball put in from over the top but she fires wide under pressure from Laura Starkie.
65 minutes gone and a collision with Solihull goalkeeper Sophie Baggaley and Accrington & Rossendale's Emily Hutton caused a short break in play but they were both able to continue.
Tempers among players of both sides were getting heated as tackles were getting more careless.
Accrington & Rossendale corner was whipped in by Tiffanie Robinson for Hannah Godfrey who put the header wide.
GOAL from Solihull!!! 70 minutes gone when Solihull grabbed their second goal. It was a great ball over the top from Perrie Craythorne who put Georgia Jones through on goal who fired a vicious effort straight through Lucy Chadwick in the Accrington & Rossendale goal.
Injury break as Accrington & Rossendale's Evie Manning was down.
Half chance for Accrington & Rossendale as a corner came in from the right was spilled by Sophie Baggaley and eventually gathered before anyone could pounce on it.
The game got very lively at this point as Accrington & Rossendale were throwing everything forward to try and pull goal back but Solihull's defensive line were solid.
On 81 minutes a great pass and move as Coral Haines found Perrie Craythorne in space who flicked the ball into the path of Georgia Jones who managed to get the shot away but was denied a second goal by Lucy Chadwick.
From the resulting corner, Lucy Chadwick came but missed the ball and was cleared off the line. Solihull fans celebrate like they had scored and receive chants in return from the Accrington & Rossendale fans.
84 minutes gone and Solihull's Sophie Baggaley denied Accrington & Rossendale a goal with a superb point blank save at the far post.
A great last ditched tackle on 88 minutes from Accrington & Rossendale's Hannah Godfrey who denied Solihull a third.
FULL TIME: Solihull College 2-0 Accrington & Rossendale College.
Solihull deserved their win 2-0 in a game which they controlled for long spells. It could have been a different story if Accrington & Rossendale took one of their chances to even the game up. As soon as the second goal went in it looked to be game as confidence dropped in the Accrington and Rossendale side. On the whole it was a very open, competitive affair between two very strong sides.
Team Line-ups
Solihull College
Sophie Baggaley, Ashlee Brown, Sophie Perrin, Gabby Maguire, Rebecca Lloyd, Millie Fugler, Lia Lewis, Poppy Jones, Jaymee Dudley, Georgia Jones, Perrie Crathorne, Demi Walker, Celina Smallwood, Shannon Parkes, Coral Haines, Melissa Clarke. Team Management: Marc Skinner (Coach), James Geobey (Assistant Coach), Tony Burnham (Assistant Coach), Pam Hodgetts (Physiotherapist).
Accrington & Rossendale College
Lucy Chadwick, Zara Musker, Laura Starkie, Hannah Godfrey, Steffi Hardy, Shauna Duffy, Chloe Adams, Tiffanie Robinson, Eve Kennerley, Rio Hardy, Emily Hutton, Evie Manning, Carrie Ingham, Pheobe Duckworth, Beth Kirby. Team Management: Phil Backhouse (Team Manager), Tim Breaker (Coach), Ryan Tweed (Physiotherapist).
Match Officials
Mike Gardener (Referee), Jack Machin & Dan Andrews (Assistant Referees), Bill Quirk (Fourth Official)
To view photos and a match DVD please visit RWT Photography.
ESFA Under 18 Colleges' Trophy for Girls Fixtures and Results.
Archived News
Seasons
Season 2013-2014
March 2014
18th :: Solihull College win the fourth Final in Coventry