ESFA 5-a-side Indoor National Finals
Wednesday 05 March 2014By ESFA Office
Last Updated:
01/04/2014 17:48:42
After the traditional curtain-raiser of the National Deaf Schools Final in early February, the ESFA Competitions Department hosted its second National Final of the season, the 5-a-side Indoor Finals sponsored by Munich Trophies.
Hosted by the superb facilities at the Derby Soccerdome, 16 teams (eight boys teams and eight girls teams) gathered to contest for the chance to be crowned National Champions.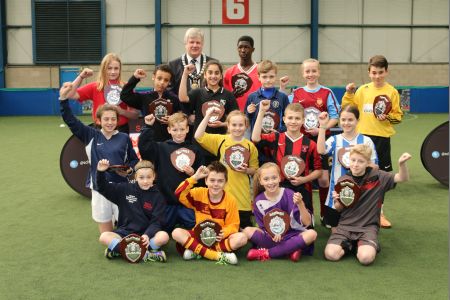 The Captain of each Regional Champion
Each team earned their right to compete by winning their respective regional tournament and qualifying for the national event. The teams that took part in the finals are as follows:
Boys Teams:
St Aloysius College (Islington & Camden SFA)
Bruntcliffe High School (Leeds SFA)
Nottingham Academy (Nottingham SFA)
Little Heath School (Reading SFA)
Ian Ramsey C of E School (Stockton & District SFA)
Torquay Academy (Torbay & District SFA)
Thomas Telford School (Telford & Wrekin SFA)
John Hampden Grammar School (High Wycombe SFA)
Girls Teams:
Northfield School & Sports College (Stockton & District SFA)
St Ivo School (Huntingdon SFA)
Kingsmead Technology College (Cannock & District SFA)
Lytchett Minster School (Poole & East Dorset SFA)
Wilmslow High School (Macclesfield & District)
South Hunsley School (East Riding SFA)
St Wilfrid's School (North Sussex SFA)
Cheney School (Oxford City SFA)
All spectators were treated to an excellent day of football, with all teams acquitting themselves extremely well. The action was fast and frantic, with plenty of goals being scored – as well as some excellent saves from the goalkeepers guarding their nets vigorously.
After being split into two groups of four and playing three group games, the top two teams advanced onto the semi finals.
In the Girls competition Northfield School & Sports College played South Hunsley School and Wilmslow High School took on St Ivo School. As time was blown on the semi finals, South Hunsley and St Ivo had both won 3-0 and advanced to the finals.
In the Boys competition Ian Ramsey C of E School and Bruntcliffe High School played out a cracking semi final, finishing 1-1 at full time, 2-2 after extra time and Bruntcliffe finally advanced 9-8 after a tense penalty shootout. In the other semi final St Aloysius College won 2 – 0 against Torquay Academy to set up a replay of an earlier group game.
In the Finals of each competition all four teams played superbly. South Hunsley School eventually overcame St Ivo School 2 – 0 after leaving it late for Captain Jessica Park to score twice.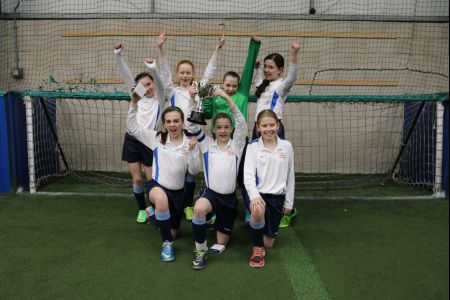 South Hunsley School - Girls Champions
The Boys final was also contested superbly with Bruntcliffe High School exacting revenge on St Aloysius College, who has beaten them in the earlier group stages.
Bruntcliffe held on to secure a 2-1 win and be crowned National Champions.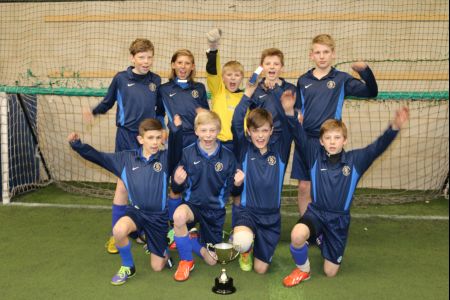 Bruntcliffe C of E - Boys Champions
After such a successful day, we would like to thank all the teams for taking part, the volunteers and Referees who staffed the event and Munich Trophies for their competition sponsorship.
To view a full gallery of pictures from the finals, please click here to visit RWT Photography.
Archived News
Seasons
Season 2013-2014
March 2014
05th :: ESFA 5-a-side Indoor National Finals