PlayStation Schools' Cup Tie of the Round Update
Friday 18 October 2013By ESFA Office
Last Updated:
18/10/2013 17:22:21
As we continue with our superb nationwide roadshow of the PlayStation Schools' Cup Tie of the Round, you can take a look at the action and atmosphere captured so far!
The Tie of the Round Roadshow has visited Manchester, London and Midlands' Schools' so far, with it moving to Walker Technology Academy, Newcastle, next week. The event will aim to reach many other metropolitian areas through the course of the season, so watch this space to see whether we are coming to a town or city near you!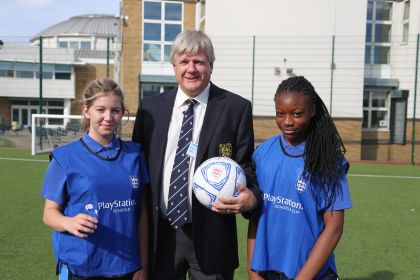 Our ESFA Chairman with two player's from The Royal Dock's School, Newham
The Tie of the Round events have featured some superb National Cup football matches so far as the focal point of the day, with students and family members being invited to show their supportand cheer on their School.
We are trying to promote the whole football experience, for pupils on and off the field and throughout the school. The e-reporter experience, for pupil's who are not involved on the field will give individuals an opportunity to be a match-day journalist, conducting interviews, taking photos and submitting a match report which will be entered into a national competition for some great prizes.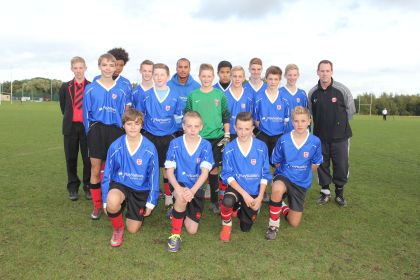 Aston Villa's Gabriel Agbonlahor with the Higham Lane School team
As we aim to inspire the next generation of superstars, each event has been supported by a locally based Premier League footballer. So far the response has been fantastic and all the footballers involved have interacted superbly with the kids, sharing their tips and answering questions on their footballing lifestyle.
The PlayStation Schools' Cup also brings with it a great opportunity for Schools' to use the latest gaming equipment and releases to promote teamwork, fairplay and a competitive spirit! The PlayStation Gameday Hub was unveiled at our most recent event in the Midlands at The RSA Academy and went down a storm with pupil's queuing round the corner to get inside and have a look!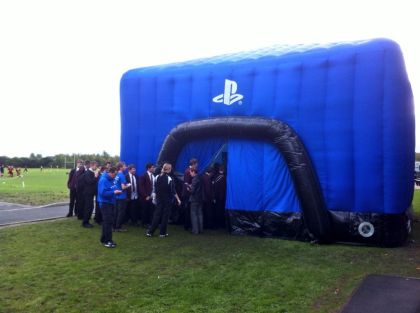 The PlayStation Schools' Cup Matchday Hub
For the latest updates and photos from each of the Tie of the Round events or to submit your entry for the e-reporter competition please visit the PlayStation Schools' Cup Website.
Archived News
Seasons
Season 2013-2014
October 2013
18th :: PlayStation Schools' Cup Tie of the Round Update