TEAM SIXTEEN IS LAUNCHED
Wednesday 25 September 2013By ESFA Office
Last Updated:
25/09/2013 16:50:55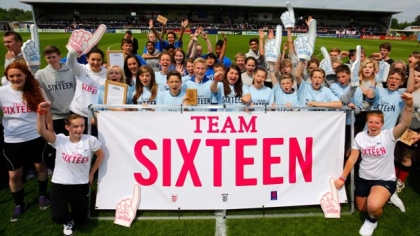 The intra-school football programme for children aged 11 - 16 has been launched
TEAM SIXTEEN is a new intra-school football programme developed by The Football Association along with delivery partners The English Schools' FA (ESFA) and The Independent Schools' FA (ISFA).
It also forms The FA's Level 1 School Games offer. TEAM SIXTEEN aims to engage secondary school children who are not currently participating in sporting activity outside of regular Physical Education lessons.
The programme also provides leadership opportunities for pupils, encouraging students to be placed in organising roles. At category 2 and 3, we will provide a 'TEAM SIXTEEN Maker' pack. The 'TEAM SIXTEEN Maker' will be a student from within the school whose role it is to encourage his/her peers to participate in TEAM SIXTEEN, making TEAM SIXTEEN a programme delivered by Young People, for Young People.
There are three 'Categories' to TEAM SIXTEEN, allowing schools to deliver a programme on a scale that meets the needs of their students and makes TEAM SIXTEEN accessible to all secondary schools, regardless of teacher and facilities availability - Click here for more
The online registration system is now live and schools can sign up for the 2013-14 academic year by clicking here.