Chairman's message
Thursday 22 August 2013By ESFA Office
Last Updated:
30/08/2013 14:49:28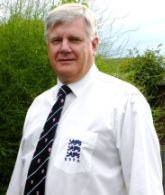 Dave Woollaston, ESFA Chairman
As the new term rapidly approaches the thoughts of the staff at the ESFA are firmly focussed on next season. As many of you are returning from well earned holidays and days of relaxation, John Read and his team are putting the final touches on the feast of schools football planned for the year ahead and what a year it should turn out to be.
For colleagues in the primary sector we see the roll out of a new Premier League Initiative which will see links being formed between district associations and Premier League clubs, the three relegated teams from last year, Wigan, Reading and QPR along with Wolves and Middlesborough. Twenty five of the top clubs helping in the work of developing our young players is quite an exciting prospect – and before any heads get filled with sinister thoughts I quote Jed Roddy from our meeting with the Premier League on 15 July, "...district associations have to maintain their independence." Clubs involved will be offering their coaching services and facilities to selected primary schools and associations free of charge. Clubs will also be required to run at least three festivals a year. Each partnership is being overseen by an ESFA council member who will be required to feedback on a regular basis. Reports on meetings held so far have been very positive. In addition, the ESFA continues to expand the number of festivals for our younger pupils so be prepared to join in when one is organised near you.
Our competitions in the secondary sector U12-U15 are all being sponsored by Sony PlayStation. By putting their name, as well as substantial funding, to our competitions gives them a deserved boost. With an increasing portfolio of competitions the opportunities for our schoolchildren to play in a high level of competitive football have never been greater. The arrangements for the finals of these competitions are already well advanced in their planning and should be an occasion to remember for all of those involved. Of course, none of this would be possible without the thousands of staff throughout the country who are providing the opportunities for so many pupils. I hope that they will remember you as fondly as I remember my football teachers back in the dark and distant past, especially Mr Bonser who taught me that my left leg was not just for standing on (and probably led towards my movement to the left in most things)!
Among the activities for our older age groups I very much look forward to our forthcoming coaching course at Repton School in August where every year we witness excellent progress both on and off the field by the young men under the tutelage of our ESFA coaches. I will ensure that a full report is posted after the course because we are not very good at shouting out about what we do well – a greater audience needs to be aware of the positive sides of our young people. Owen Aiston will also be leading a Primary Ambassadors course during the same week at Repton. This is a new initiative aimed at primary teachers providing them with lesson plans and coaching ideas to take back to their colleagues.
With more ideas coming to fruition this promises to be a fine year. We have the ESFA development plan produced under the leadership of Neil Pont to keep us focussed and sufficient funds to put actions to words. Thanks for your commitment over the last year, enjoy your break, relax and recharge as we hope to have lots for you to enjoy over the next year.
Dave Woollaston