Chairman's Monthly Report
Friday 31 May 2013By ESFA Office
Last Updated:
10/02/2021 11:49:24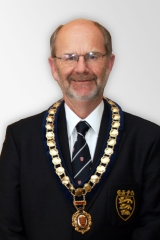 Neil Pont, ESFA Chairman
So now, towards the end of May, all of our finals are completed, our international programme is over and the players have received their caps. But the work still goes on as we prepare for the AGM on June 29th, compiling reports that show all that has happened throughout the season. I still have important meetings with The FA as the relationship between our two organisations continues to grow and prosper while Council met in Newcastle last weekend and was able to make progress on a number of fronts.
The ESFA web-site shows all of this season's national champions and there are reports on all finals available for you to read. It tells of competitions from U11 to U18, for boys and girls, individual schools (with special categories for small schools and 'B' teams), districts and counties. What an amazing range of football is provided for young people throughout the country. And let's reflect on how well these competitions are organised by the National Competitions Department, led by Darren Alcock. All the finals were splendid occasions, played on excellent grounds.
Our U18 boys' international team rounded their season off with two spirited draws with the Republic of Ireland and New Zealand while the U15 girls suffered a defeat in Glasgow at the hands of a strong Scotland team, this season's SAFIB champions. The ESFA International and Coaching Committee reflected on the season at this weekend's Council meeting. Selection for the boys' team will be changing next year as we fall into line with other SAFIB countries and select our team on a 'calendar year' age qualification as opposed to a 'school year' qualification. The committee made decisions about the future preparation of the squad for the Centenary Shield competition so that the players can be more ready for the cut and thrust nature of these matches. The further development of the girls' international programme is in their plans too.
The Community and PR Committee worked hard at putting more detail into plans outlined in the ESFA 2013-15 Development Plan. The organisation of the Primary Ambassadors' Course is well advanced. Primary teachers are invited to a residential course at Repton School in August to learn more about delivering the football curriculum to primary-aged pupils. These teachers are then asked to act as 'ambassadors' taking their newly-acquired skills back to teachers in their own area. More details can be obtained from your local Council member or from ESFA at Stafford. This committee is also looking at the development of our web-site and at improving media coverage so that ESFA has as high a profile as possible.
Earlier in the season I hinted at a growing relationship with The Premier League which will see enhanced support for primary school football. Discussions are moving forward and it is now clear that there will be three parts to The Premier League's involvement: the development of a free online resource to support all aspects of the KS 1 and 2 National Curriculum for Physical Education; the development of a skilled workforce to work alongside teachers delivering football education in schools; support for primary district teams through the use of Premier League club resources - pitches, transport and coaches. Both ESFA and The Premier League are aware that basing work around a Premier League club will not give an even, country-wide, geographical spread. It is built into the long-term plans that this scheme should grow to cover Football League and Conference clubs. This is a really exciting development that will be backed up by a substantial financial investment.
Above, I mentioned my forthcoming meetings with The FA. One of these meetings is directly related to the ESFA / FA Research Project which I have mentioned before and to which many of you will have contributed. We have already considered how the recommendations from the research fit with our Development Plan and how we will need extra resources if we are to be able to react in a positive way to the recommendations. The FA is keen to support us in ensuring that we are a 'football development' organisation and we will be working with them to this end.
Please keep up to date with all these developments, and more, by staying in contact with your local Council member who is there to support you in your work for schools' football. I expect that your football season is just about over - with all the ups and downs it has brought you. I hope to write one last time before my year as Chairman ends, reflecting on what has been a busy, rewarding but sometimes frustrating experience - but more of that later!
As I look out of my study window, here in Newcastle, on 23rd May, I see hailstones bouncing off the road. I hope the temperature will soon rise so that cricket bats, running spikes and tennis racquets are in use as we put another football season to bed. I am convinced that a rest from the 'beautiful game' is important if it is going to appear just as beautiful next season. Enjoy the summer!
Neil Pont
23.5.13