Derby County will host this season's U15 Schools' Cups
Wednesday 27 March 2013By ESFA Office
Last Updated:
10/02/2021 11:49:22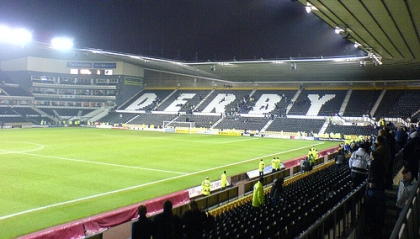 Pride Park Stadium, home of Derby County Football Club
The ESFA Competitions Department are please to annouce that Derby County Football Club will host this season's Under 15 Schools' Cups for Boys and Girls.
In the Girls' Final, Queens' School (Watford & District) will face Laurence Jackson School (Redcar & Cleveland) OR Arnold Hill Academy (South Notts) at 12 noon.
In the Boys' Final will kick off at 4 pm. Both games will be played at Pride Park Stadium on Wednesday 15th May 2013.
Ticket prices will be £4.00 Adults and £2.00 Pupils.
Archived News
Seasons
Season 2012-2013
March 2013
27th :: Derby County will host this season's U15 Schools' Cups