Kepier School make it to the U12 Semi Finals
Thursday 21 March 2013By ESFA Office
Last Updated:
10/02/2021 11:49:22
Kepier School U12 team
On a bitterly cold day in Houghton-le-Spring, Kepiers Year 7 football team entertained George Spencer Academy from South Nottinghamshire for a place in the semi finals of The English Schools Football Association Danone National Cup.
In the first half, Kepier had the bulk of the possession, playing attractive and neat football, but failing to create any clear cut chances, thanks to some excellent defensive work from the visitors, with the whole George Spencer team throwing themselves into tackles.
The second half continued in the same vein, with Kepier dominating the centre of the park, but only creating sporadic chances, which were dealt with by the George Spencer defence. The best of these chances came from a free kick on the edge of the box, with Kepiers Alex Johnson curling a superb free kick over the wall, only for Max Culverwell in the George Spencer goal, who deservedly was awarded man of the match, to pull off an even better save.
The game looked to be heading into extra time, but with 90 seconds left the ball broke loose on the edge of the George Spencer box, finding its way through to Dino Citrone, who had been brought on only a few minutes earlier, and despite being under pressure from two defenders he calmly slotted the ball beyond Max Culverwell into the goal.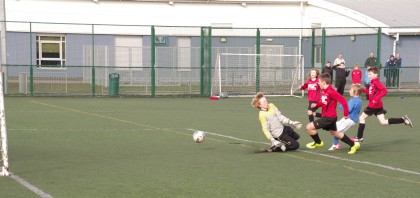 Dino Citrone scoring the winning goal
Kepiers manager, former Sunderland defender Martin Scott, said "It was a fantastic game, whole hearted but played in a great spirit by both teams. I am extremely proud of the boys from Kepier, and am looking forward to the semi final."
George Glover from George Spencer commented "It was a very tight game, with some excellent defending from us. However, Kepier were deserved winners and I wish them luck for the semi final."
Archived News
Seasons
Season 2012-2013
March 2013
21st :: Kepier School make it to the U12 Semi Finals