Chairman's Monthly Message
Thursday 14 March 2013By ESFA Office
Last Updated:
10/02/2021 11:49:22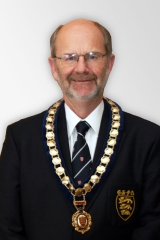 Neil Pont, ESFA Chairman
We are fast approaching a very busy time of the season for me, my ESFA Council colleagues and ESFA staff. I have been delighted to attend and host U18 international matches at Lincoln and Plymouth, against Wales and Northern Ireland respectively. My thanks are extended to all colleagues in the local associations in Lincoln and Plymouth who put in so much voluntary hard work to ensure that all arrangements were in place and that large enthusiastic crowds were in attendance.
The results of the matches were not what we would have preferred - but our international team certainly have represented the Association with pride and their behaviour and deportment have been exemplary. An important added aspect of their international duty is visiting local schools in the morning of match day. I attended visits with them at both locations and am proud of the way these young men stood out as role models for the young students - who received them with great excitement and interest. It is so important that these elite players, who are at the apex of the work we undertake, give something back and show what can be achieved in sport while studying and following an academic career.
I look forward to travelling to Scotland and the Republic of Ireland with them later in the season. I write this just prior to the friendly U15 girls' international v Scotland at St George's Park. This is another first - our first home international for the girls' team and, of course, our first match at the splendid new FA facility. It is pleasing to see the progress that has been made with girls' football in schools - but we do know that there has been a reduction in the number of girls' teams entering our national competitions and it is a problem we are seeking to address.
The Munich Trophies U12 5-a-side finals at Derby were splendidly organised by Darren Alcock and his colleagues in the National Competitions Department and I was glad to be part of this great feast of football. With regard to small-sided football, we are working with The FA to investigate how more Futsal can be delivered in schools and we have set up a sub-committee in Council to look specifically at this topic - so more news in due course.
Finals are now upon us thick and fast. Unfortunately late March snow has scuppered some plans but I'm sure Darren will have matters well in hand. I will endeavour to visit as many finals as possible but I am grateful to Council colleagues who will stand in for me on occasion. My other commitments besides Chairmanship of ESFA, and the fact that I live a long way 'oop North', make it impractical to attend every final. I can assure you it is through no lack of respect for the competitions - I extend my heartiest congratulations to all teams who have battled though many rounds to strive for the prestige of being national champions.
Neil Pont