Thank you Referees!
Tuesday 05 March 2013By ESFA Office
Last Updated:
10/02/2021 11:49:22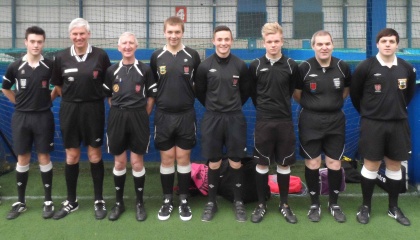 The men in the middle!
The English Schools' FA would like to thank the 8 referees who officiated at the ESFA Under 12 Indoor 5-a-side Schools' Cup Finals (sponsored by Munich Trophies) on Saturday 02 March at the Derby Soccerdome.
The match officials were:
Mark Warren (Staffordshire)
Bill Quirk (Derbyshire)
Craig Chilton (Worcestershire)
Ray Brown (Cornwall)
Daniel Pattison (Worcestershire)
Scott Robertson (Worcestershire)
Reece Atton (Birmingham)
Lewis McQuillan (Derbyshire)