Laurence Jackson School make it to the National Final
Monday 04 March 2013By ESFA Office
Last Updated:
10/02/2021 11:49:22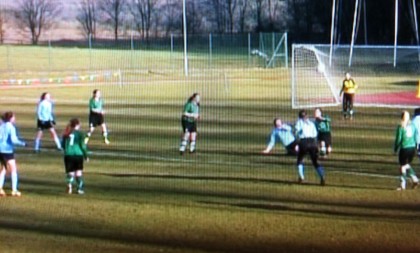 Laurence Jackson (Green) v Becket School (Blue)
Wednesday February 27th 2013
The game was played at Laurence Jackson School on a beautifully prepared flat pitch on a perfect day for football.
Both sides went in to the game having had some impressive performances in previous rounds.
It was the visitors who exerted the early pressure and a good through ball on five minutes sent SOPHIE NEWLOVE clear to fire an unstoppable left foot shot past the LJS keeper Erin Breckon.
Laurence Jackson responded immediately and went straight on the attack as a defence splitting pass sent KOREDYE AKINTOYE racing clear to slide the ball past the keeper.
LJS pressed home their advantage within a minute with a well taken goal from captain SOPHIE WARNES.
With Laurence Jackson now in the 'driving seat' the game seemed to be slipping away from Becket as another great pass sent KOREDE AKINTOYE away, holding off her marker to score with a cool finish.
HALF TIME – LJS 3 BECKET 1
The second half was always going to be a battle as Becket refused to lie down, with the impressive Ashleigh Plumtree a constant threat to the home side.
Laurence Jackson had to survive a period of intense pressure as Becket tried to get back on terms.
A long through ball from the LJS defence had a one on one situation with the keeper racing out, but her attempted clearance hit KOREDE AKINTOYE, who was left with a simple tap in.
Becket came back strongly and scored the goal of the game when ASHLEIGH PLUMTREE picked up the ball in her own half before racing forward evading several tackles before crashing the ball in to the roof of the net.
The game was far from over and several of the home players were beginning to feel the effects of cramp, as the pitch began to take its toll along with the non - stop running they were putting in to keep Becket at bay.
The pace of KOREDE AKINTOYE told again as she held off a visiting defender to score with a great finish to make it 5-2.
With the game seemingly won Becket had other ideas and reduced the arrears further when an in swinging corner evaded the LJS defence and ASHLEIGH PLUMTREE pounced to make it 5-3.
It the closing minutes both sides gave everything they had and as the final whistle blew Laurence Jackson had made it to the final.
The game was played in a fantastic sporting manner with both sides a credit to their schools and to girl's football. Both sides enjoyed each other's company in the after match hospitality.
Archived News
Seasons
Season 2012-2013
March 2013
04th :: Laurence Jackson School make it to the National Final