Kepier School make the Quarter Finals
Thursday 31 January 2013By ESFA Office
Last Updated:
10/02/2021 11:48:59
By Robert Giles of Kepier School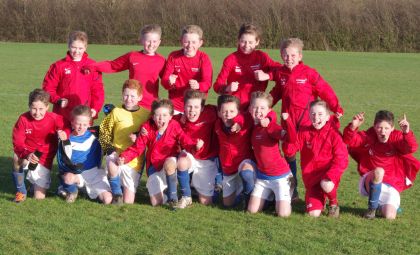 Kepier School Under 12 side
Kepier's Elite Football Academy are now through to the last 16 of the Danone Nations Cup after a hard fought 1 - 0 win at Nunthorpe Academy in Middlesbrough on Wednesday January 30th 2013.
The recent poor weather had left the pitch extremely wet, with standing water in places, and this combined with a very strong wind made for far from ideal playing conditions.
Despite playing with the wind in the first half, Kepier failed to press home their superior possession and very few chances were created, with the Nunthorpe goal rarely threatened thanks to excellent and spirited defending from the home team. In the second half, despite playing into the wind, Kepier continued to play the better football and made the breakthrough after 10 minutes when Ryan Leonard slid an inch perfect pass through for Sam Robinson, who took the ball past the defender and kept his nerve to slot the ball home into the bottom left hand corner of the goal, giving the Nunthorpe keeper no chance.
Kepier continued to largely control the game, although the final 10 minutes of the match saw Nunthorpe begin to press more and create several chances, the best of which in the dying seconds saw a fantastic save from Owen Warren in the Kepier goal.
Every player put in a fantastic performance, but a particular mention is made of Kieran Charlton who marshalled the defence superbly in the frantic last few minutes of the game.
Kepier are now through to the final 16 of the competition, where they will represent the northern region against St. John Fisher Catholic School in Harrogate for a place in the quarter finals.
Archived News
Seasons
Season 2012-2013
January 2013
31st :: Kepier School make the Quarter Finals