National Youth Fustal Festival 2012
Thursday 19 July 2012By ESFA Office
Last Updated:
10/02/2021 11:49:18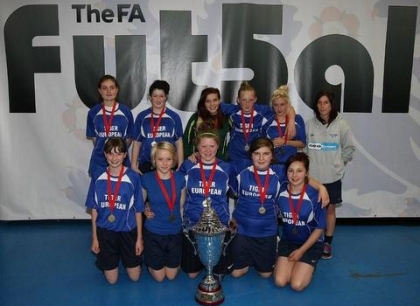 Gedling School - U14 Girls' Futsal National Champions
Another weekend of Futsal action came to a close in July as the 2012 FA National Youth Futsal Festival was played out at the National Futsal Centre in Birmingham.
It was a weekend of thrills, spills and fabulous Futsal action, showcasing the best young teams from around the country and potentially, some of the nation's future stars at both Futsal and Football in the process.
The Festival Finals were played out across two days, with Saturday being the finals day for the younger age groups (Under 10's and Under 12's, Boys and Girls) before the older age groups hit the courts on Sunday (Under 14's and Under 16's, Boys and Girls).
This year that was more difficult than ever, with 25 County FA run heats with an average of 46 teams per heat with a total of 530 boys' and 540 girls' teams competing in initial qualifying events overall, before progressing through to one of eight Regional Finals, giving the children a fantastic opportunity to taste finals day Futsal experience.
80 teams arrived in Birmingham across the eight age groups, all battling out for the right to be named National Champions. The level of enjoyment on show was a pleasure to see and gave a real indication of just why Futsal is beginning to grow in this country. The winners and runners of each age category are detailed below:
Age

Winners

Runners-Up

U10 Boys

East Hull Saints FC

Marine Academy
Plymouth SFA

U10 Girls

Hereford Lads FC

St Anne's Rovers FC

U12 Boys

Blidsworth SR Elite Coaching

Hayesbrook School
West Kent SFA

U12 Girls

Farsley Celtic Girls' FC

Rickmansworth School
Watford SFA

U14 Boys

Desborough School
East Berkshire SFA

Whitecross Sports Academy
Hereford SFA

U14 Girls

Gedling School
South Notts SFA

Bishops of Hereford School
Hereford SFA

U16 Boys

St Andrew's FC

Franks Tanks FC

U16 Girls

Forest Green FC

Frances Bardsley School
Havering SFA
The standard of Futsal on show in Birmingham was phenomenal and on a weekend where Spain, a giant in the Futsal world, won Euro 2012, the FA National Youth Futsal Festival showcased the level of skill and ability that English youngsters do possess. Every coach, parent and supporter who travelled to Birmingham, will now realise that Futsal is the key to unearthing that talent.