Malcolm Fretter rewarded in Olympic Torch Relay
Wednesday 11 July 2012By ESFA Office
Last Updated:
19/07/2012 11:07:20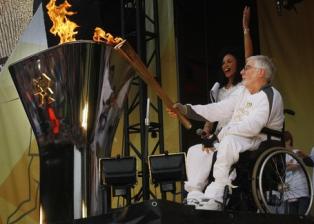 Malcolm Fretter with the Olympic Torch
In what was a much deserved and unforgettable experience, Malcolm Fretter (Primary Secretary of Oxfordshire Schools' Football Association and White Horse Primary Schools' long-serving volunteer) was involved in a very special piece of the Olympic Torch relay.
He had the honour of lighting the Olympic cauldron in South Park, Oxford, with thousands of people who were in attendance for the ceremony.
The Vale of White Horse Primary Schools Under 11's volunteer has given his services for 45 years, and intends to continue the voluntary activities he does to give young people every opportunity to use their talents.
As Mr Fretter was introduced to the crowd by the leader of the Oxford City Council, Bob Price, he announced to the watching audience "It's something I shall never forget …"
This is nothing more than he deserved, and most would agree that it was fitting for Malcolm to be chosen to receive this honour.
He said afterwards: "It was a massive honour to be part of such a fantastic event. When I looked up I thought what an amazing thing to be a part of this just for one small moment. I feel very honoured and humbled."
Despite the grey clouds above, crowds were entertained by live music and acrobatics. They also had the chance to take part in a number of sporting activities. The Tree of Light was lit later, at 9.30pm, to mark the end of the evening's celebrations.
Congratulations to Mr Fretter on such a great honour from everyone here at the ESFA head office!
Archived News
Seasons
Season 2011-2012
July 2012
11th :: Malcolm Fretter rewarded in Olympic Torch Relay