A message from the Chairman: Neil Pont
Wednesday 04 July 2012By ESFA Office
Last Updated:
19/07/2012 11:07:20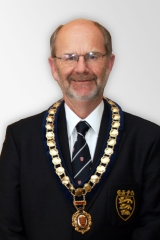 Neil Pont
Having only joined Council in 2008 - on the premise that I would do the job for three years until a new face could be found to represent the North East - it comes as a bit of a shock to find myself leading the biggest school sports association in the world. But, of course, it is a moment of great pride. I am determined to repay the faith shown in me by serving with energy and drive. ESFA Council members are, of course, all volunteers but we are elected by membership to both lead and serve. In this we are supported by an outstanding group of staff who have a great sense of pride in and commitment to ESFA.
As leaders of the Association we have to make decisions on behalf of players, teachers, administrators and all those involved in schools' football on a huge variety of matters. I am determined that we become fully aware of the needs of our grass-roots members when we make those decisions. I encourage you all 'out there' playing, coaching and organising schools' football to keep in touch with your region's Council members about any and all matters related to the playing of the game in your own, local situation. I am happy to hear from you directly and am looking forward, in my year of office, to travelling far and wide and meeting new faces - as well as catching up with old friends.
Our competition portfolio continues to expand as we seek to meet everyone's needs. As schools amalgamate to make larger institutions it can happen that there are fewer team places for those who would want to represent their school. So, for the first time, we have introduced a national 'B' team competition to encourage schools, wherever possible, to run more than one team in a particular age group. Conversely, as some schools get larger other, smaller schools can find it hard to compete. Last year we introduced a Small Schools competition for U.13 players. This was a great success and so we have added an U.14 competition too.
Competitions do need rules. For the past two years I have been Chairman of the Competitions Committee and have had to adjudicate on some unfortunate cases where schools have not taken heed of the rules. Please read the rules -especially about exactly who is eligible for any given competition - carefully. Please remember to wear numbered shirts in ESFA competitions. Schools should be aware that, from next season (new rule): In individual school/college competitions, a maximum of three players who attend the same FA Licensed Academy/Centre of Excellence run by a club that employs contract players can participate in a match. Of course, all this information will be available in the ESFA Handbook and on the web-site.
Some quite big changes are coming. Discipline in schools' football is changing from next season; the adoption by The FA of the recommendations of their Youth Review has far-reaching implications for the organisation of teams, resources and playing areas; the Elite Player Performance Programme will affect schools' relationships with professional clubs - I can assure you that we will keep you fully informed about how these matters will affect you in your school situation.
If we are all to work together for the cause of schools' football, good communication is the key. Monthly e-zines will be sent to all County SFAs who are encouraged to distribute the e-zine far and wide. Please publish it on your own web-site (not forgetting, of course, that an ESFA grant is available to set up a web-site if you don't yet have one!). I will distribute 'Chairman's Notes' after each ESFA Council meeting so that membership knows exactly what is going on.
I'm sure that teachers and pupils are looking forward to their summer break - let's hope you fare better with the weather. As I write this I am looking out on a mighty thunderstorm that has seen the Tyne Bridge struck by lightning, while Newcastle seems to be afloat. For me, August will see me attend one of my first engagements for ESFA. I will be going to the U.18 coaching course, held at Repton School. I am looking forward to meeting our elite players and also to witnessing our first Primary Ambassadors coaching course. Primary teachers will be attending to learn about the best ways to introduce the game to our youngest players and those who have been on the course will return to their own locality to deliver the same material to primary colleagues.
This will be the start of a full and exciting year. There will a long round of meetings and conferences to attend - but, of course, (thankfully!) there will lots of football to watch as well. Please invite me to be part of any schools' football activity you are organising and I will do my best to attend - geography and other commitments permitting. I look forward to meeting as many of you as possible.
The ESFA is a great organisation that seeks to enhance "the mental, moral and physical development and improvement of schoolchildren…through the medium of Association Football". Let us not forget that that is why we do what we do. Sometimes it's hard, sometimes frustrating, sometimes annoying - but often joyful, exhilarating and exciting - always rewarding. Have a restful mid-summer break and come to the new season as enthusiastic as ever!
Archived News
Seasons
Season 2011-2012
July 2012
04th :: A message from the Chairman: Neil Pont