Discipline in Schools' FootbalI Season 2012-2013
Wednesday 04 July 2012By ESFA Office
Last Updated:
19/07/2012 11:07:20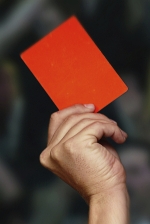 From Season 2012-13, The FA has split football into different categories for discipline purposes. A player will serve any suspension he receives only in the category of football where the offence was committed.
Youth Football and School Football are two separate categories - so, from next season, a player sent off in Youth Football is only banned from playing in that category; the player will still be able to play football for his school. Likewise, a player disciplined in school football can still play for his club. The only reciprocal agreement (where a player is banned from ALL football) comes into play if a player is punished for 'further misconduct'. Suspensions for further misconduct will be time-based whereas straightforward cases will have match-based suspension, shown in a tariff. There will be no automatic right of appeal against the match-based suspensions.
So - where does that leave school football? The ESFA Council has decided that:
in school football there is only one category - so any bans apply to all school football. For example: a player sent off while playing for his school and receiving a three match ban will serve that ban in his next three competition-based matches - these may be for his school, his district, his county or even his country
Details of procedures and tariffs will be published in the ESFA Handbook and will be available to consult on the ESFA website.
Administration of discipline procedures
County SFAs have the right to decide whether they would prefer all discipline matters to be handled centrally by the ESFA National Competitions Department on their behalf or whether they wish to continue to administer discipline in their own county themselves. If discipline is administered by ESFA, ESFA will retain the administration fees paid to them but will return fines to County SFAs at the end of the season.
County secretaries need to inform Darren Alcock at HQ how they wish to administer discipline in Season 2012-13 by 20th July 2012. Forms for this purpose have been sent to all counties but can also be downloaded here.
If you have any queries please do not hesitate to contact Darren - darren.alcock@schoolsfa.com

Archived News
Seasons
Season 2011-2012
July 2012
04th :: Discipline in Schools' FootbalI Season 2012-2013