Andy Williams' Euroblog: The Final
Monday 02 July 2012By ESFA Office
Last Updated:
19/07/2012 11:07:20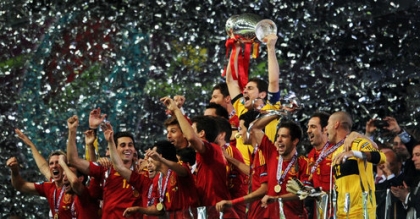 Spain celebrate victory at Euro 2012
Former England Under 18 Schoolboys' Team Manager, Andy Williams, made his final Euroblog entry last night, following the final in Kiev. Here is what he had to say:
So, Spain have made history (becoming the first team to win three championship titles in a row) defeating a very good Italian team with their branded 'tiki-taka' style. They are now in danger of becoming the greatest team ever to grace the planet! Not only do they set the pace and tempo, leading a game or a tournament out from the front, but Spain have a knack of getting over the line and finishing the job off. To consistently deliver that, is a sign of Champion players and a Champion Team.
This set of players has supreme awareness, technical ability, vision and decision making skills; this truly is a golden generation of players playing a unique brand of football that no one will be able to copy. For Italy to have had any realistic chance of winning this game and becoming champions, they had to over-perform and Spain had to under-perform. Sadly for them Italy were not the same team that drew against Spain 1-1 in the first group game.
Before today, Italy were never behind in the tournament, so it will have come as real body blow to concede so early on. If Spain had been criticised for their play up to this point in the tournament, well they didn't disappoint in the final; they certainly saved their best until last. As expected, they flooded the midfield and bamboozled Italy with their usual high tempo passing, immediately pressing high up the pitch when losing the ball. Unable to find the real space that he had done previously, Pirlo was neutralised for long periods. As early as the sixth minute he could be spotted as Italy's last line, picking the ball up incredibly deep trying to orchestrate play like a quarter back.
The game was effectively all over by half-time. Ignore the two late goals; whilst Spain may have scored a third had the Italians opened up late on and chased the game, having been down to 10 men for over twenty minutes they were tired. It is astonishing to think that Spain have gone 990 minutes without conceding a knockout goal - clean sheets win matches!