Chairman's Tribute to Mike Spinks
Monday 02 July 2012By ESFA Office
Last Updated:
19/07/2012 11:07:20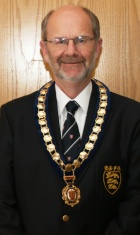 Neil Pont
County Secretaries will have received a newsletter from Mike Spinks in which, in his usual modest way, he quietly told them that this would be his last communication as a full-time employee of ESFA. Mike will shortly enter hospital for heart surgery and then as he recovers and takes the leave that he is due, he will retire from full-time employment. We certainly hope that in the future his expertise and experience will be there for us to call upon, so we may see him back in a part-time capacity.
Teachers throughout the country will sing the praises of the ESFA's National Competitions Department which Mike has led so wonderfully. Mike can always be relied upon to give sound advice and to make fair and informed judgements. As Chairman of the Competitions Committee in recent years I have worked closely with Mike and have always been impressed with his energy, enthusiasm and attention to detail. He will be sorely missed - though he has trained the members of his department so well that we can be sure that the change-over will be seamless.
At the recent AGM, Mike was granted Life Membership of ESFA. The proposal was put by his long-time friend and colleague, Phil Harding, Chairman of ESFA Trustees. Phil made the proposal with these words which, I feel, are a fitting tribute to a well-respected colleague:
Mike Spinks joined Council in 1998, succeeding the venerable Terry Moore as the Council Member for the old Area 9. In October 2002, he became our first National Competitions Manager. In the ten years since then, Mike has overseen the huge growth in ESFA competitions and has helped transform the Association into the organisation that it is today, providing football for literally thousands of young people every season.
Mike reached retirement age last month and a few days after his birthday received the news that he requires a triple by-pass heart operation. If all goes to plan, he will enter hospital in 10 days' time, and our thoughts and prayers will be with him for a successful operation and full recovery.
Mike's involvement in school sport goes back forty years, and includes a spell as Chairman of the English Schools' Cricket Association, as well as Secretary and Chairman of Essex County Schools' FA. His enthusiasm for sport for young people is legendary, as too is his wish to attend every sporting event that he can. He is a season ticket holder at Norwich City and a keen supporter of Essex cricket – a pursuit for which his former job as Headteacher of the Cathedral School in Chelmsford was well-suited. The county ground was a quick single from Mike's office in school, enabling him to move seamlessly between the two throughout the cricket season – and the school day! Mike has an enviable reputation for being able to blag himself into myriad sporting venues in this country and abroad, including, on one famous occasion, the VIP hospitality suite at the US Tennis Championships in New York City.
The Mike Spinks that we all know and respect is a man with many admirable qualities: dedication, loyalty and integrity among them. Above all, he is a gentleman in the real meaning of that word. Many of us in this room are privileged to call him a friend, and it is my great pleasure, Chairman, on behalf of Council, to move:
"That this Annual General Meeting desires to place on record its sincere appreciation of the services rendered to the Association by Mr Mike Spinks and in accordance with General Rule 3 (a) (vi) confers on him Life Membership of the English Schools' Football Association"
Phil's proposal was passed to long and loud applause from the members present.