Isle of Wight Festival 2012: Day 3 & 4
Wednesday 11 April 2012By ESFA Office
Last Updated:
30/04/2012 14:18:16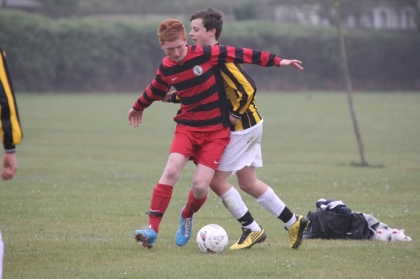 Hyndburn & Ribble Valley v Yeovil
Results – Day 3
| | | |
| --- | --- | --- |
| Isle of Wight | 0-1 | East Cornwall |
| West Cornwall | 1-4 | Cambridge |
| Bishop Auckland | 3-2 | Bridgwater |
| East Riding | 3-0 | Coventry |
| Yeovil and District | 1-2 | Derby |
| Hyndburn & Ribble Valley | 2-8 | Plymouth |
| Vale of White Horse | 8-1 | Hartlepool |
The surprise of Day 3 was the Vale of White Horse's 8-1 victory against Hartlepool. On the first two days, both sides had shown defensive strength with the Vale having had two 1-0 victories and Hartlepool conceding only one goal in each of their previous games. Vale's Team Manager, Des Williams felt that the score flattered the Vale but that it was by far the side's best performance since they first came together 18 months before. The goals were spread around with Aidan Davies and Jack Westhead scoring two apiece with others coming from Jack Powell, Joel Thompson, Thomas Briggs and Benji Anderson.
There was another big score in the Plymouth v Hyndburn and Ribble Valley game although the young Lancashire side did well to fight back from three quick goals from Plymouth early in the game to make the interval score 3-2. The superior physical strength of Plymouth told more and more as the game progressed and they added five more goals in the last 20 minutes to match the eight of Vale of White Horse. Hyndburn greatly enjoyed the game and the Plymouth staff suggested that the score did not really reflect the good football that Hyndburn and Ribble Valley played. As in the other high scoring game, the goals were spread around with two each for Ollie Archer and Jake Miller with others coming from Denham Guild, Teigan Rosenquest, Jason Vincent and Will Nesbit.
All the other matches were quite closely fought although Coventry went down 3-0 to East Riding in which the Coventry management felt that their team could have played until the next Festival without scoring! The Isle of Wight were disappointed that a tired performance led to a 1-0 defeat by East Cornwall who again played well after their recovery the previous day. Cambridge defeated West Cornwall by a convincing 4-1 margin with three of their goals coming in the first 25 minutes through Josh Wilson, Michael Johnson and Daniel Mills. West Cornwall rallied after the break and pulled a goal back through a fine volley from Luke Tripconey but Cambridge sealed the game with another goal from Johnson who also missed a penalty.
Derby after two unfortunate defeats beat Yeovil and District 2-1 with all three goals coming from Derby's players. An own goal by Josh Allsopp gave Yeovil the lead but Derby recovered to level the scorewith a fine individual goal from Oliver Palmer and went ahead through a Ben Crane header to make it 2-1 after 26 minutes, a score that remained unchanged.
Game of the day was the one in which Bishop Auckland beat Bridgwater 3-2. Bishop Auckland had the advantage of the slope at the well grassed Rookley FC and took the lead when Adam Lee-Shields followed upto score from a rebound from three yards. Their second goal was even more fortunate when Luke Molyneux's sliced hiscross with his 'wrong' foot and the ball went straight into the net while the third saw Molyneux's shot which was going well wide hit Morghan Claytron on the knee to divert the ball into the net. Bridgwater pulled a goal back through the impressive Rhys Hayward just before half-time and made it 3-2 when Jack Hoare met a half cleared ball and hit a stunning 25 yard drive past the keeper. Bridgwater continued to dominate the second period but Jordan Middleton in Bishops' goal made three excellent saves to help them to victory. Even Bishop Auckland had the grace to comment that the Somerset side were very unfortunate to not at least share the honours. A game that epitomised what Festival football is about!
Results - Day 4
| | | |
| --- | --- | --- |
| Yeovil & District | 7-1 | Hyndburn & Ribble Valley |
| Bridgwater | 3-0 | Derby |
| Cambridge | 0-4 | Bishop Auckland |
| Plymouth | 2-0 | Hartlepool |
| Vale of White Horse | 2-1 | Isle of Wight |
| East Cornwall | 0-1 | East Riding |
| West Cornwall | 0-5 | Coventry |
With tired legs always coming to the fore on the last morning of the Festival, four of the seven games brought straightforward wins for Yeovil and District, Bridgwater, Bishop Auckland and Coventry. Bridgwater made the week one of their best ever at the event which they have visited 15 times as Cameron Hampson, Danny Keane and Rhys Hayward, their top scorer, netted the goals Which beat Derby 3-0 and brought their third win.A hat-trick by Marcus Cook led the way for Yeovil and District as they beat Hyndburn and Ribble Valley 7-1 with other goals coming from Matthew Howell, Ace Page, Tiago Marquess and Ollie Moore.
Coventry belied their team management's opinion of the previous day when they beat West Cornwall 5-0 A superb header from Jordan Wilson gave them an early lead and Kyle Jaynes added a second before half-time. The second half was a mirror of the first with Coventry in full control scoring further goals through Lewis Ludford, Taylor Blyth and Wilson again.
Vale of White Horse continued to show their defensive strength as they made it four wins in four during the Festival by beating the Isle of Wight 2-1. They trailed to a first half penalty by Luc Debaham but turned the tables in the second half as Benji Anderson and Jack Powell found the net. East Riding's single goal was enough to see off East Cornwall and Adam Lee-Shields, Harris, Aynsley Pears and Kai Willis were all on target in Bishop Auckland's win over Cambridge.
There was a sad end to a good week when the match between Plymouth and Hartlepool had to be abandoned after 60 minutes. Plymouth were on target for the other 100% record during the week as they went into a 2 goal lead early in the second half through Jason Vincent and Tegan Rosenquest when Owen Jones went up unchallenged for a header, fell awkwardly and dislocated his knee. With an ambulance called and both teams visibly affected, the match was sensibly abandoned by the young referee.
Photographs can be purchased via www.rwt-photography.co.uk