Isle of Wight Festival 2012: Day 2
Thursday 05 April 2012By ESFA Office
Last Updated:
30/04/2012 14:18:16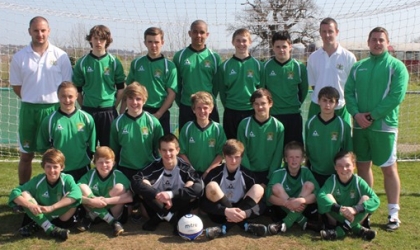 Plymouth Under 14 Squad competing at the IOW Festival
Results – Day Two
| | | |
| --- | --- | --- |
| Bridgwater | 2-1 | East Riding |
| Yeovil & District | 1-0 | Hartlepool |
| Derby | 0-1 | Vale of White Horse |
| West Cornwall | 0-3 | Isle of Wight |
| East Cornwall | 2-2 | Coventry |
| Bishop Auckland | 0-3 | Plymouth |
| Cambridge | 1-3 | Hyndburn & Ribble Valley |
The morning games when the Isle of Wight Festival resumed in glorious weather yet again, were all close affairs with both Bridgwater and Vale of White Horse maintaining their 100% records.
After Bridgwater's 7-1 victory on the opening day, they were given a much tougher game by East Riding although they took the lead in the 2nd minute when Danny Keane netted after good work by Jamie Burton. Good defensive performances from Billy Vickery, Luke Rimes, Cam Hampson and Sam O'Coy helped Bridgwatrer control the gamebut East Riding equalised with a quick break just before half-time.
After the break, Bridgwater began to take midfield control and Rhys Hayward put them ahead again after 17 minutes and although Ed Howes made a fine double save, East Riding's attacks were rare and Bridgwater had the ball in the net near the end but the effort was ruled out for offside
Vale of White Horse again won 1-0 but left it very late, when a late penalty by Jack Powell, who himself was fouled in the box, was enough to beat Derby. Vale had plenty of chances but also owed a lot to goalkeeper Conor Johns who made a magnificent save from Alex Pollard when he finger-tipped the ball on to the bar and made some other good stops. Derby had an equal number of first half chances but neither side could break the deadlock.
Derby started the second half strongly and created another four chances which they unfortunately missed and could be classed unfortunate not to get a share of the spoils.
Yeovil recovered well from their 5-0 defeat the previous day and beat Hartlepool 1-0 in another game of missed chances particularly in the first half when Yeovil forcedMitchell Rookes to make a good save but failed to hit the target with their others.
The second half was scrappy until a long ball was expertly slotted over the advancing Hartlepool keeper. This spurred Hartlepool to finish strongly with Nathaniel Skidmore, Jack Skidmore and Liam Measor all having chances but the ball just would not go in.
The local Isle of Wight side gained their first win with two penalties helping them to a 3-0 victory, Bradley Hayter opened the scoring while Luc Debaham and Callum Morgan converted the spot kicks.
There was a shock as Hyndburn and Ribble Valley with their young side defeated Cambridge 3-1 at West Wight FC. Cambridge played below their normal level but the Lancashire side worked hard all through the game and deserved their win which should give them much encouragement.
Plymouth continued to look the best team at the Festival as they defeated Bishop Auckland 3-0. Jason Vincent followed up a shot from Jake Miller rebounded from the bar. Vincent scored his second midway through the second half and Jake Miller sealed their win in the 65th minute.
Photos can be viewed and purchased via www.rwt-photography.co.uk