U18 Friendly: England 0-2 Poland
Thursday 08 March 2012By ESFA Office
Last Updated:
30/03/2012 14:17:11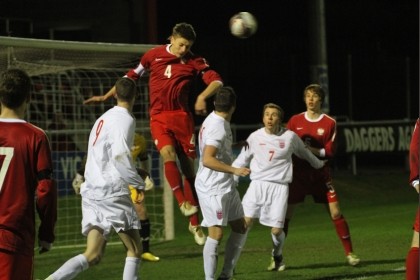 Action from England v Poland
Played at Dagenham & Redbridge FC on Wednesday 07 March 2012.
Attendance 1700
After the shock of defeat in Wales last week Andy Williams made several changes to his starting X1 for this last night's tough encounter with a very strong, fully professional, Polish side. Defeat in Poland last year meant Andy knew what to expect and had planned accordingly.
The Poles began the game at lightening pace and tried hard to get behind the English back 4 but they were resolute and strong and restricted the Poles to one shot from distance which was confidently dealt with by Somerset keeper, Connor Adams, winning his second cap. It took about 5 minutes for England to really get to the pace of the game but then they started to build play more confidently through skipper Jack Pounce in central midfield, and after 12 minutes Joe Bunney pressure down the left hand side forced the first corner of the game, only for Kyle Downey's kick to fail to reach the first defender.
Then after 20 minutes a long free kick by George Newton from the left well beyond the defensive line set Andrew Venning free only the right but his shot across the box was deflected for another corner. Venning was involved again just a minute later when Joe Bunney slipped him a super ball inside the left back but his firmly struck low shot to the left corner of the goal was well saved by keeper Pogorzelec. England were growing in confidence and despite not having as much possession as Poland were looking just as likely to score. Peter Glenn-Ravenhill was becoming a menace to the Polish defence and after 32 minutes he was set free down the left but his shot was dealt with by the keeper, and then just minutes later he wriggled free from the attentions of 2 defenders to smash over a terrific cross from the left only to see it whizz beyond the far post and out. After 35 minutes a speculative and surprise blast from Pounce, some 35 yards out, had everyone on their feet, but Pogorzelec again was up to the challenge and coolly saved. Taking the hint Glenn-Ravenhill tried his luck from 25 yards just before half time, only to se his shot fizz over the bar. 0-0 at half time, and although technically the superior side Poland were well matched in effort and organisation by England. The game was 40 minutes each way to suit UEFA rules.
With several changes for both teams after the break the game lost a bit of its shape but England continued to create chances. From a throw-in after 44 minutes by the ever impressive Olly Davies, Ben Mooney found himself with a shooting opportunity from 12 yards, only to see his goal bound effort deflected for a corner. From the ensuing kick Louis Mobbs rose like a swan at the back post but once again his fierce header cracked against the bar and came out in what was a replica of his attempt in Wales. Poland responded immediately with pacey attacks and won a corner on the right. The kick landed almost on the penalty spot where Damian Kugiel, left completely unmarked, volleyed home. 1-0 to Poland.
With England tiring and struggling to find a pattern to their play after several substitutions the enormously impressive Polish No 11, Aleksander Jagiello, who already plays in the Polish league for Legia Warsaw, began to use his pace and guile to good effect with frequent defence splitting passes to put England on the back foot, and following one of these a snapshot by Manusz Stepinski fizzed by the right hand upright. Despite feeling the pressure England still created some chances and when substitute Daniel Jones was poleaxed by the keeper the crowd were baying for a penalty, only for their calls to fall on the deaf ears of referee Fred Graham. The Polish quality then really shone in the 69th minute with Jagiello and Stepinski combining with pace and accuracy in midfield, then releasing left back Piotr Azikiewicz with an inch perfect ball between the England right back and centre back which he accepted gratefully and slotted coolly past the advancing Adams, 2-0 to Poland.
This was a game England expected to be difficult but a spirited effort was made by all and the Poles certainly knew they had been in a match; they will have much more comfortable evenings against other full time professional sides in the future. Overall an improved performance by England after the Wales defeat and they can look forward to the rest of the season with much more confidence.
England U18 Fixtures & Results 2012
Match DVD and Photos can be viewed and purchased at
www.rwt-photography.co.uk