de Ferrers provide ball boys for Carling Cup Final
Tuesday 28 February 2012By ESFA Office
Last Updated:
28/02/2012 11:37:24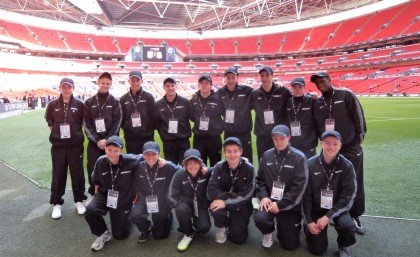 de Ferrers Academy pupils at Wembley Stadium
On Sunday 26th February 15 students from The de Ferrers Academy had the experience of a lifetime when they had the fantastic honour of representing Burton and District Schools FA and the English Schools FA as the ball boys at the Carling Cup Final at Wembley between Liverpool and Cardiff City.
On arriving at the ground the students were met by the Football League representative, issued with their security passes and escorted to their changing room. After changing they were able to walk around the outside of the pitch and take in the sheer size of the arena and receive a briefing about their duties before the Stadium opened to the public. At this time the students were brushing shoulders with reporters from Sky Sports, Sky News and the BBC! They also had the opportunity to watch Robbie Fowler and Ian Rush completing media interviews pitchside.
The boys were then provided with lunch and were then taken to meet referee Mark Clattenberg in his changing room. The boys were briefed about their duties from the match officials and all got to hold the match ball and talk individually with the top referee! Leaving the refs changing room coincided with the arrival of the Liverpool players who walked past the boys to their changing room.
There was then some time to relax, another opportunity to walk around the outside of the pitch as the stadium was filling up before being in their designated positions 20 minutes before kick off. The entertaining match passed with all students completing their duties quickly and effectively, allowing the exciting game to flow. The students certainly got value for money with the game going to extra time and penalties! The noise inside the stadium was phenomenal and the atmosphere electric.
After completing their lap of honour the Liverpool players went back down the tunnel walking past the de Ferrers' boys who managed to get a few photos that they will no doubt cherish for years to come. It was a fantastic day that was enjoyed greatly by the staff and students involved. All at de Ferrers would like to thank ESFA Chairman John Appleby on giving the students such a fantastic opportunity.

Archived News
Seasons
Season 2011-2012
February 2012
28th :: de Ferrers provide ball boys for Carling Cup Final