A Message from the Chairman: John Appleby
Wednesday 14 December 2011By ESFA Office
Last Updated:
19/12/2011 10:18:48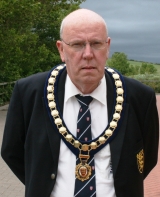 John Appleby
Neil Pont (ESFA Vice-Chairman) and myself have been privileged to be able to present mementoes to colleagues in recognition of long service to ESFA. The ceremonies were at Milton Keynes Dons FC (South and Midlands) and Newcastle United FC (North) These awards are in recognition of 40 years of outstanding service to Schools' Football and are a small token of the esteem felt by the Officers of ESFA to such stalwarts of our organisation. All colleagues who were present at the ceremonies continue to deliver time and effort to their respective associations and for the benefit of school children in their locale.
The selection process for the Under 18 Boys' and Under 15 Girls' International teams has been underway since early October and is now nearing completion. Regional games were played at Rayners Lane and Belper Town FC from which the team management and regional selectors chose 34 boys to attend the final trial at Lilleshall this past weekend. Games were played against the Navy and the RAF to help in the selection process. The Navy were sunk by 4-1 and the RAF were held to a 1-1 draw.
The final 18 were informed by letter within a couple of days of the trial and the squad is published on the website.
Steve Wilderspin, Director of Football at Thomas Telford School, joined the team to work with Dave Burns as a physio and will be mainly responsible for the girls' team this coming season. Andy Blight of Northumberland Schools' FA was appointed as the next Under 18 Assistant Team Manager for seasons 2012-2014. He was successful after an interview at Lilleshall and we congratulate him on his appointment.
The Under 15 Girls' trials took place in November. The North at Balby Carr and the South at Chigwell School in Essex. Our thanks go to Council colleagues Neil Hopwood and Stuart Bottoms for their organisation where a great deal of talent and skill were displayed by the trialists. A squad of girls was selected to represent each of the areas for a final trial game to be played in the midlands in January. Thanks to the staff of both schools for their effort on our behalf.
Staff at HQ continue to work extremely hard on our behalf and with a fair wind a new Marcomms appointment should be made in the coming month to support our drive for improved communications, publicity and enhanced sponsorship opportunities for the association. John Read and Mike Spinks are working with Danone to renew the Under 12 competition sponsorship.
The new Tesco Cup is progressing well and is at County Round stages. Our portfolio of competitions is well on schedule thanks to the efforts of the participants and the recent clement weather. I have watched seven games in these competitions so far and have been impressed with the enthusiasm and sportsmanship on display. Long may it continue as it encapsulates all that we stand for in Schools' Football.
December is the month for the Wembley meeting between the FA and ESFA, the partners meeting. No doubt the newly released FA grassroots plan will be on the Agenda. I attended the Victory shield games against Wales and Northern Ireland and Neil Pont against Scotland. England won all three to retain their grip on the trophy. Let us hope that the Under 18 Boys can manage a similar profile in the Centenary Shield and that the Under 15 girls can also match their achievements.
Brighton and Newcastle are the host cities for this season's two home Centenary Shield matches. Details will be on the website. ESFA are looking for Associations to host our games in season 2012-2013. Having staged the Republic of Ireland game 2 seasons ago I can certainly say that it is a richly rewarding experience. If your association is interested then please contact John Read at HQ.
It seems incredible that six months have passed since I took up the Chairmanship of this great body. I am very grateful to my fellow Council members for their support and guidance and to John Read and his staff at HQ for keeping me on the straight and narrow.
As the end of the year approaches, may I take this opportunity to thank all of the people who support schools football. Players most importantly, parents, coaches, referees, team managers, and administrators alike we as a governing body could not do this without your help.
May I wish you all a Happy Christmas and a healthy, peaceful and prosperous New Year.
John Appleby
ESFA Chairman 2011-2012

Archived News
Seasons
Season 2011-2012
December 2011
14th :: A Message from the Chairman: John Appleby