Williams reflects on Coaching & Development Course
Wednesday 31 August 2011By ESFA Office
Last Updated:
22/08/2012 15:13:36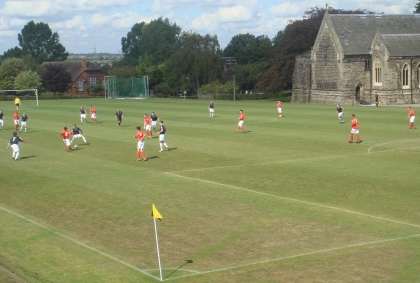 esfa.co.uk once again caught up with England Schools' team manager, Andy Williams, to gain his thoughts on last week's ESFA Summer Coaching & Development Course, which was held at Repton School in Derbyshire.
"The closure of the Elite Development Course at Repton School on Friday (26 August 2011) sees the end of my involvement on the ESFA instructional courses, but what a way to go out! I expected a lot from this course when we spoke last week, and I have not been disappointed. We have had a truly fantastic week.
Having had virtually no rain all summer, the playing surfaces in Repton were baked solid making fatigue a real issue. However, the players performed magnificently in coping with the challenging conditions. Not only must I give immense credit to the players for their attitude in remaining so committed, but I must also thank our two physios, Dave Burns and Mark Eales, for their professional support in preparing the players so well and patching them up to play!
The players themselves have contributed to a thoroughly enjoyable week's football. Their focus and desire to improve, not only as footballers, but also as people, has left a marked impression on all of the ESFA staff that were present. The standards they set both on and off the pitch are the best that I remember in 12 years.
I must thank the support staff and admin for preparing a course of this calibre; I am also indebted to my coaching for their outstanding work this week. I can honestly say that the development of elite players in the current ESFA system is in very safe hands with this professionalism and dedication shown by this set of coaches. The quality of football that was produced in such a short space of time with players who had never met before is testament to their experience and knowledge of the game. The 72 players who attended will certainly go away better players I am sure."
Archived News
Seasons
Season 2011-2012
August 2011
31st :: Williams reflects on Coaching & Development Course