Meet the new Chairman: John Appleby
Thursday 28 July 2011By ESFA Office
Last Updated:
28/07/2011 09:38:51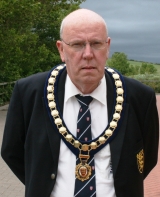 John Appleby
John Appleby is now retired and lives in the village of Repton in south Derbyshire. He is however, a 'Geordie' exile, having grown up in Forest Hall, a village just outside Newcastle upon Tyne. He attended Benton Square infants, followed by West Moor Junior School and George Stephenson Grammar School.
His love of football was engendered by his father, an avid Newcastle United fan who travelled home and away to follow his team. His first game was at the age of eight watching Bobby Mitchell destroy West Ham. At junior school he played football but took up rugby at Grammar School. He represented Northumberland at Cricket. After A levels John went to Loughborough College to study PE and Geography.
During his time at Loughborough John played rugby and the odd game of football and that trend continued when he was appointed as a teacher at Hillside Secondary Modern in Burton on Trent. Rugby for Burton RFC on a Saturday and football on a Sunday morning was the regular diet.
Involvement with schools' football occurred on day one as 'Nogger' Beard had him running teams at school level and within a year a District SFA team. John remained at Hillside as it became Paulet High School and finished his teaching career in the same school as an Assistant Headteacher. He became Secretary of the local Association, a post he still holds today, and Secretary of Staffordshire Schools' FA. He ran a District team for over 30 years and a County team for many as well as running the youth team set up at the local semi-pro side, Burton Albion FC.
Today he is Secretary/Treasurer of Burton and District Schools' FA as well as Chairman of Staffordshire Schools' FA. His abiding passion for the game has meant he has needed the support of wife Janine, a long suffering football widow. His son Doctor Christopher Appleby runs a successful business in Australia and daughter Ellie works for a local Staffordshire business and lives locally.
John became a Council member in 2008 and is relatively inexperienced to become Chairman but he knows he can rely on the support of Council colleagues and good advice and guidance from Chief Executive, John Read.
He is extremely proud to take up this position as leader of the greatest schools' organisation and as the first from Burton to do so.