Andy Williams on tonight's match
Thursday 28 April 2011By ESFA Office
Last Updated:
28/04/2011 21:05:42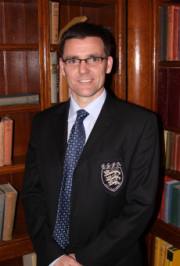 Andy Williams
esfa.co.uk once again caught up with England Under 18 Schools' Team manager, Andy Williams, ahead of tonight's international against the Republic of Ireland. Here is what he had to say:
"Remarkably, the game against the Republic of Ireland tonight represents the conclusion to my first season in charge of the International Team. Each day I still pinch myself and give thanks for the privilege that has been afforded me in leading the team. Whilst I have thoroughly enjoyed every moment of this incredible experience, there is nevertheless a tinge of disappointment that we have not performed better in our games.

When you suffer a disppointment, the best way to get over it is to deliver when the next opportunity arrives. Third place is sill up for grabs for the winners, and you can guarantee the Irish will be going full out to beat the English. With that in mind, we enter the game with same sense of determination that we have entered our previous internationals; with the will to want to succeed. The team are committed to playing the best that they can - let us hope that we can step up and get the desired result and thus end the season on a high."