New International Team Manager: Andy Williams
Friday 09 July 2010By ESFA Office
Last Updated:
13/11/2010 16:04:21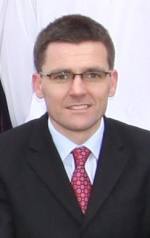 Andy Williams
England Manager
The start of the 2010-2011 season will see Andy Williams take over the reins as the Manager of the England Schools' Under 18 International team. Read on for Andy's answers to questions posed by ESFA's Mike Spinks in Part 1 of this interview…
Mike Spinks (MS): Andy, you and I have something in common, as Primary School Headteachers. My Headships were a few years ago, but I'd like to know about your school?
Andy Williams (AW): I am privileged to be the Headteacher of Moorfield Primary School in Widnes. The school isn't particularly large, but we are blessed with wonderful people who are totally committed to the school and brilliant pupils. The school has a strong traditional sporting background, which I enjoy immensely, and consequently we have a number of very talented young athletes.
MS: Tell me something about the football you played yourself as a schoolboy in the Primary and Secondary Schools you went to?
AW: I played primary school football early on, representing my school team, Spinney Avenue C of E Primary School in Widnes, from Year 4 onwards. My playing career peaked around age 11 when I represented the Widnes Primary Schools Town Team. Although enjoyable, it wasn't really a successful season, so not much to talk about there! At Secondary School I represented Wade Deacon High School and loved every minute of it. Later at Widnes Sixth Form College I was Captain when we won the Cheshire Schools' Cup.
MS: How are you now involved locally with schools football in your area?
AW: When I first graduated I took three school teams each year before coaching the Liverpool Schools Primary Under 11 Team and later Merseyside County U16s; I have fond memories of those days. Combining my Headteacher duties with coaching the National Team, my time now doesn't really lend itself to coaching district or county teams. Maybe that is something I will return to when my days as the International Team Manager are over!
MS: Your school & family must be very proud of your elevation to ESFA U18 Team Manager?
AW: I hope so. It's not something I shout about too much; I find it all rather embarrassing to be honest. I'd rather just quietly go about the business of developing and challenging young footballers.
MS: What should a prospective young player do to be chosen for an ESFA trial?
AW: You must be passionate about performing at your best level all of the time for your school and for your county, be it in practice, during matches, or even off the pitch. You have to get noticed by doing all the right things.
MS: Could you tell me something of the preparation that goes into selecting a squad of international players?
AW: This is England, so the process is rigorous and thorough. You might want to get have a cup of tea handy before I start – we could be here some time!
We scout across the whole country and see as many players as possible before making our decisions. We rely on our County Managers and Secretaries to make player nominations. We have a large team of coaches and selectors who then travel across four regions during the Autumn Term viewing the trials. From those trials we select four regional teams who then play games against each other. Progression from the regional games will see approximately 34 players selected who will then receive two coaching weekends at the Lilleshall National Sports Centre during December, and play more trial games. The survivors who get through all of that have made it. At this stage you are in the final 18, ready to represent your country and have the honour of receiving an international cap.
MS: So you've now got your squad. What kind of a season can they look forward to?
AW: By the time the squad is selected we have arrived at the end of January! The journey starts with a coaching weekend when the players are awarded their England shirts and play their first friendly fixture. Half term sees a five day warm weather training camp – for the last few years this has included a game or possibly two in Southern Spain. When we arrive back we enter the Centenary Shield fixtures programme with Scotland, Wales, Northern Ireland and the Republic of Ireland. We then tend to go off on tour to the USA where the boys are involved in a lot of charity work as well as playing a further two fixtures. There may be an odd friendly international thrown in for good measure and possibly a game at Wembley to look forward to! All in all it's a fantastic experience for us all; we spend a lot of time together and become like a second family gathering many lifelong memories along the way.
Read part 2 of this interview on Monday 12 July...

Archived News
Seasons
Season 2009-2010
July 2010
09th :: New International Team Manager: Andy Williams