Annual General Meeting 2010
Monday 21 June 2010By ESFA Office
Last Updated:
10/02/2021 11:48:52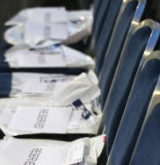 The 2010 Annual General Meeting was held at the Beacon International Centre in Stafford, on Saturday 19 June.
For those that were unable to attend the meeting, a brief synopsis is detailed below:
Motion: Membership requested that the ESFA Council establish a working group representative of the whole Association that will (a) undertake a review of the structure of the Association incorporating proposals for future development and (b) consider the roles of the Chairman, Chief Executive and Council of the ESFA and then report back its findings at the end of February 2011.
Rationale: To establish whether the Association is still able to function effectively bearing in mind (a) the demands of the present day educational system on teachers and (b) the increased needs of involvement with the national FA
Outcome: motion carried.
Motion: Where no local Schools' Football Association exists and it is not practical for one to be formed, a School Sports Partnership will be allowed to seek affiliated membership of their respective County Schools' Football Association.
Rationale: in some parts of the country, local Associations have been disbanded through a variety of reasons. This rule change would allow schools to be in membership of the national governing body of Schools' Football when, otherwise, they would have no local Association available to them.
Outcome: motion defeated.
Motion: "The minimum size of the ground in 11-a-side matches shall be 90 yards by 60 yards. National Competition matches may be played on artificial grass pitches that conform to the FIFA 1 star standard, or the equivalent International Artificial Turf Standard (IATS). This usually refers to 3G pitches and advancements introduced thereafter."
Rationale:In view of the technological advancements made in artificial turf over recent years, the ESFA now feels it is appropriate for a team to host a National Cup game on this new type of surface, if they have access to such a facility. Various organisations, including schools, have gone to considerable expense and effort to install these facilities which will often provide a better playing surface during the winter months as well as increase the chances of a match being played during congested periods.
Outcome: motion carried.
Council retirement: The meeting confirmed that Mr Terrance Pollard, Mr Mark Knight and Mr David Walker would be leaving the ESFA Council with immediate effect.
New Chairman: Mike Coyne took over the mantle of ESFA Chairman from Paul Rickard in accordance with Association rules.