England Football Day: Saturday 12 June 2010
Wednesday 02 June 2010By ESFA Office
Last Updated:
10/02/2021 11:48:52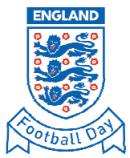 England Football Day has been created for schools, clubs, teams, players and volunteers around the country to play, coach and celebrate football.
With England competing in the FIFA World Cup this year, and The FA offering help and encouragement, why not create your own England Football Day festival to promote your club?
You could:
Hold an open day for schools, players, coaches or volunteers
Run a coaching day promoting the new FA Youth Award
Fundraise by holding a barbecue and showing the match at your school or clubhouse
Ask volunteers to help with decorating your school / clubhouse
If you are planning to organise a tournament as part of your festival, and are an ESFA / FA affiliated school, club, league or organisation, you must contact your County FA to get your tournament approved (sanctioned). To find contact details for your local County FA visit TheFA.com/GetIntoFootball/CountyFA/CountyContacts
England Football Day will be on Saturday 12 June to celebrate England's first game against the United States, but if this day isn't suitable you could run a festival on any day in the run-up to or during the FIFA World Cup.
To see your festival appear on our festival map, and to enter our prize draw to win £500 of equipment vouchers for your club, fill in details of your festival on the form below. Once we've checked all the information you will receive a confirmation email and login details that will let you update your festival information at any stage. All that then remains is to download our festival toolkit and start inviting people to your festival!
For more information go to www.thefa.com/englandfootballday
Archived News
Seasons
Season 2009-2010
June 2010
02nd :: England Football Day: Saturday 12 June 2010