Where are they now: Victor Moses
Friday 28 August 2009By ESFA Office
Last Updated:
10/02/2021 11:49:06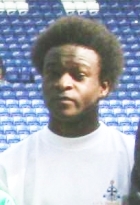 Victor Moses at Whitgift
Current Crystal Palace star, Victor Moses, has already made waves in the professional game and is understood to be coveted by a host of Premier League clubs. Victor has probably been one of the most naturally gifted footballers to pass through the school system in recent times.
He proved an unstoppable force during the 2004-2005 ESFA U14 Schools' Cup campaign, where he helped Whitgift School (Croydon SFA) to become National Champions. He managed to score all five goals in the 5-0 rout of Healing School (Grimsby & Cleethorpes SFA) in the final at Leicester City FC on Wednesday 22 May 2005.
Moses also inflicted a similar demolition job on the way to the final as Whitgift overpowered any team that came in their way. The team scored an astonishing 73 goals in 10 matches under the guidance of PE Masters, Colin Pates (former Arsenal and Chelsea footballer) and Steve Kember (former Crystal Palace).
Moses attended Stanley Technical High School (now known as the Harris Academy) in South Norwood, during which time he was scouted playing football in the local Tandridge League, where scouts from Crystal Palace approached him, with the club's Selhurst Park stadium just streets away from his school. The scouts were so impressed that he was offered a place in the Eagles' Academy, which he accepted.
Shortly after Moses joined their academy, Palace recommended him to the fee-paying Whitgift School in Croydon in the hope that the higher quality coaching and facilities at Whitgift would further improve his development as a player.
Since then, Victor has gone on to represent England at U16, U17 and U19 level. He has managed to score 5 goals in 53 appearances for Palace while playing predominantly as a left winger.
For all Victor's achievements in the beautiful game, there is a tragic story behind his early success. He came to England at the tender age of 11 after fleeing Kaduna in Nigeria following the death of his parents. An incredibly poignant interview with journalist Oliver Holt about Victor's life story can be read here.