FA Cup balls used for U13 Minute Maid Cup Draw
Wednesday 28 January 2009By ESFA Office
Last Updated:
13/11/2010 16:03:21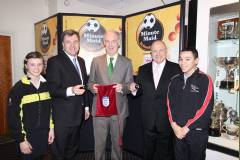 Ed Ball (2nd left) and George Cohen (2nd right) make Cup Draw
The FA kindly gave the English Schools' FA permission to use the official FA Cup balls and bag to make the U13 Minute Maid Cup Draw at Craven Cottage, Fulham Football Club yesterday lunchtime.
Ed Balls, the Secretary of State for Children, Schools and Families was assisted in making the draw by England World Cup winning legend George Cohen. George represented England 37 times between 1964 and 1967, while amassing an impressive 459 appearances for Fulham Football Club around that period, scoring six goals in the process.
Shenfield High School girls (Essex) and Queens School boys (Hertfordshire) teams were on hand to witness the event which is recognised as the largest schools' football competition in Europe. 1700 boys' teams and 1100 girls' teams entered this tournament back in September, which is now at the last 64 stage in both categories.
Boys' U13 Minute Maid Cup Draw
Girls' U13 Minute Maid cup Draw
Photo courtesy RWT Photography, photos can be viewed and ordered by logging on to www.rwt-photography.co.uk
For more information visit www.minutemaidschoolscup.co.uk
Archived News
Seasons
Season 2008-2009
January 2009
28th :: FA Cup balls used for U13 Minute Maid Cup Draw