U12 MATCH! CUP: Stanground 0-4 JFK
Tuesday 14 October 2008By ESFA Office
Last Updated:
13/11/2010 16:03:17

John F Kennedy School (Hemel Hempstead) travelled to Stanground College (Peterborough) yesterday afternoon for the second round of the ESFA MATCH! Under 12 Cup for boys.
Stanground went into the tie full of confidence after beating Onslow St Audrey's School (Hatfield) 10-0 in the first round. However, they were caught by surprise yesterday, as the visitors got off to a whirlwind start thanks to a first half hat trick from James Hampton and a further strike from Obi Okerke to leave Stanground College wobbling at the break.
Stanground showed great determination and character in the second half as they continued to battle for possession and not let JFK slip further out of sight. Both keepers made fine saves as the score finished 4-0 to the Hertfordshire based school.
John F Kennedy School will now travel to Essex to play the winners of Brentwood School or Jo Richardson School (Dagenham) in Round Three.
Photo courtesy of RWT Photography. Action shots from the match can be found on www.theimagefile.com/web/rwtphotography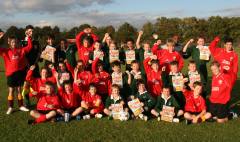 JFK and Stanground players together
U12 Match! Cup – Results and Draw
Archived News
Seasons
Season 2008-2009
October 2008
14th :: U12 MATCH! CUP: Stanground 0-4 JFK