U18 Schools' Trophy Draws
Thursday 29 November 2007By ESFA Office
Last Updated:
10/02/2021 11:48:46
The draw for Round Five of the Under 18 Boys' and Under 18 Girls' Trophies are now online. Round Five ties are scheduled to be played on or before Saturday 8 December.
U18 Schools' Trophy for Boys Draw
U18 Schools' Trophy for Girls Draw
---

U18 Boys: Round 4 Round-Up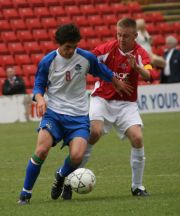 John Fisher School (Purley) secured a convincing 3-0 win when they travelled to Denefield School (Reading). The visitors found themselves 1-0 up at the interval through a Reece Wilson strike and completed an impressive display with further goals after the break from Reece Wilson and Matthew Brown.
A Billy Young hatrick and John Rixon brace proved too much for Wheatley Park School as they went down 5-1 at home to Cherwell School in the Oxford derby. Wheatley Park's reply came from Aaron Davies.
Gareth Owen was the hero of the day for Headlands School (Bridlington), as he netted four goals in a 4-1 home win against Eckington School (Sheffield).
Stowmarket School (Suffolk) survived a tricky second half against Thurston School (Bury St Edmunds) as they managed to hold on to a narrow 2-1 lead with both goals coming in the first half through Ryan Clarke and Simon Bernard.
Sandwell Academy (West Bromwich) continued their notable start to this season's competition with a 7-1 win against Thomas Adams School (Wem). Goals from Ross Phillips (3), Lewis Bridges (2), Anthony Cutler and Shane Sterling ensured an easy passage into the round five draw.
---

U18 Girls: Round 3 Round-Up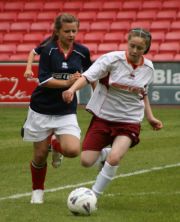 Stafford College's promising start to this season's competition came to an abrupt end at the hands of Sutton Coldfield College after losing 4-0 at Holmcroft yesterday afternoon. Jay Bradford, Anita Barnes, Cherelle Archibald and Rebecca Large were all on target for the Birmingham based college.
Goals continued to be the order of the day as Durham Gilesgate Sports College secured a spectacular 6-0 win at home to Halifax based Hipperholme & Lightcliffe School. Sarah Danby (3), Katie Meek (2) and Sarah Unwin were on the scoresheet for Gilesgate.
A strong Farnbrough Sixth Form College side were also in the mood for goals as they won 9-2 at home to Wallingford School (Oxon). Despite a spirited second half performance from Wallingford, Farnborough went through with goals from Rebecca Mole (3), Laura Wallman (2), Nicola Moore, Kirsty Smith, Melissa Shennan and Sian Cleary.