National Cup Draws - Season 2007-08
Wednesday 08 August 2007By ESFA Office
Last Updated:
10/02/2021 11:49:02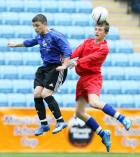 Action from one of
last season's finals
The National Competitions Department of the English Schools? FA has today officially released the National Cup draws for Season 2007-08.
Once again, the number of participating teams is up on the previous season, confirming that the ?national game? is as popular as ever within our schools. This season?s entries are listed (last season?s entries shown in brackets):
U12 Boys - 712 (696)
U14 Boys - 901 (889)
U15 Boys - 883 (820)
U15 Girls - 541 (516)
U18 Boys - 616 (523)
U18 Girls - 231 (214)
U18 Colleges - 157 (162)
Some of last season's national finals were played at prestigious venues such as Liverpool FC, Coventry City FC, Manchester City FC, Birmingham City FC, Stoke City FC and AFC Barnsley.
To view the draws click on the following:
Boys Draws
Girls Draws
Archived News
Seasons
Season 2007-2008
August 2007
08th :: National Cup Draws - Season 2007-08