Mixed Football
Friday 20 July 2007By ESFA Office
Last Updated:
10/02/2021 11:49:02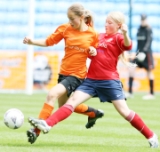 Mixed football is being reviewed
The Football Association, under pressure from the Government, has agreed to investigate the age restrictions to mixed football currently in force in this country. Any junior league which has players up to the age of 14 and above the age of 11 and within the current age group banding (no more than 2 years) may apply to their County FA for permission to play up to 4 girls in any one team for the season 2007-2008 only. If there are a number of leagues in each county applying for this dispensation, the County FA may restrict the number of Leagues given this dispensation. Boys are still restricted to boys' leagues and may not play in girls' football.
The Football Association will:
Monitor the number of girls who actually register and play for boys' teams.
Monitor the number of girls' teams withdrawing from girls only leagues.
Compare the situation with other European countries
Debate the results with the Women's Committee, Development Committee and the League sanctions Committee before putting recommendations before Council in June 2008.
All of the above does NOT apply to SCHOOLS' FOOTBALL where current regulations remain extant.