U15 Association Trophy Draw: 2007-08
Friday 20 July 2007By ESFA Office
Last Updated:
13/11/2010 16:03:49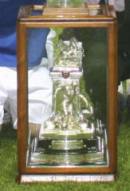 The Trophy
The draw for the English Schools' FA U15 Inter Association Trophy was made after the recent Annual General Meeting held at Old Trafford, Manchester United FC.
The number of participating District SFA teams is 155, which is an encouraging increase on last season's 136.
The draw comprises of 28 Round One ties which are scheduled to be played on or before Saturday 6 October. All other teams have received a bye into Round Two, which shall be completed on or before Saturday 3 November.
Notable ties include last season's runners-up, Poole & East Dorset, who will entertain Newbury in Round One. Last year's semi-finalists, Nottingham, have received a bye to Round 2 and will travel to Solihull. While last season's other losing semi-finalist Reading will travel to the south coast to take on Bournemouth in Round One.
The final of last season's competition was won by Worksop & Retford SFA after beating Poole & East Dorset SFA 5-4 over two legs.
Archived News
Seasons
Season 2006-2007
July 2007
20th :: U15 Association Trophy Draw: 2007-08