England U18 Schoolboys Season Review
Friday 22 June 2007By ESFA Office
Last Updated:
10/02/2021 11:48:45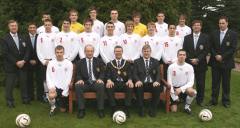 England U18 Schoolboys
England 5-2 Belgium, 27.02.07 (Friendly)
The match was scheduled to be played at Aldershot Town Football Club, but the venue had to be rearranged at the last moment as the weather got the better of the Recreation Ground. Charterhouse School kindly offered their excellent facilities at short notice and the match could be played.
England took the lead through a Jack Burridge (Durham) header thanks to a superb cross from Sam Hall (Staffordshire). Belgium then equalized, but England soon regained the lead when Jack Burridge hooked in a second following a corner which Belgium failed to clear. Belgium equalized again on the stroke of half time with after being awarded a harsh penalty.
England again regained the lead in the second half through James Fraser (Sussex) who scrambled the ball home following a free-kick. The Belgians threatened again briefly until Paul Jarvis hit home a fourth, at which point England introduced Tom Hall (Essex) and Sam Morrison (Kent) for the final 20 minutes. By this time the Belgians morale had sank and Phil Bannister (Northumberland) finished them off with a fifth after robbing the centre half and chipping the keeper.

Scotland 0-1 England, 23.03.07 (Centenary Shield)
England got their defence of the Centenary Shield off to a positive start with a 1-0 win away to Scotland at Stirling Albion FC.
A well taken goal from Phil Bannister (Monkseaton School and Northumberland CSFA) on the stroke of half time was enough to separate the teams and allow England to collect all three points on the evening.
Republic of Ireland 1-1 England, 30.03.07
(Centenary Shield)
England started confidently at Home Park FC, Dublin, and took the lead through Matthew Jones who side-footed in a Phil Bannister pull back. There was the inevitable response from the home side who showed they could break quickly from defence. England keeper, Neil Jupp pulled off a wonder save to prevent Ireland from equalising, with Daniel Awolesi on hand to clear the danger Ireland eventually equalised before the break thanks to a header that was converted from a dangerously whipped-in free-kick.
The second half was a close affair and could have gone either way, with both teams missing chances. The final score was probably a fair reflection of the match.
England 3-0 Northern Ireland, 20.04.07
(Centenary Shield)
Three weeks had elapsed since England's last get together, although it didn't show as England put in another good performance, although the result may have been a little flattering. Two goals from Phil Bannister (Northumberland) and a further strike from Tom Rutter (Cheshire) completed the proceedings in front of a crowd just over a thousand. This victory ensured that England were crowned winners of the 2007 Centenary Shield after Republic of Ireland drew with Northern Ireland 1-1 in Dungannon the following Friday.
England 3-3 Wales, 04.05.07
(Centenary Celebration International)
Spectators at Wolverhampton Wanderers were treated to a goal feast last night as England's U18 Schoolboys drew 3-3 against Wales.

England got off to the worst possible start, conceding a goal in the first minute after an attempted clearance landed at the feet of a Welsh forward, who took no time in slotting the ball past Scott Drury. England came back quickly and their efforts were rewarded on 8 minutes when Phil Bannister curled a shot high to the keeper's right after a well worked free-kick routine.
Better was to come when Sam Hall drove a superb low shot from 25 yards to put England in the lead. After 26 minutes, however, it was all square again as the Welsh scored with a headed goal from a corner.
England then conceded a penalty which Wales converted, which once again put the visitors into the lead. England after this point proceeded to throw everything at Wales, with Bannister and Fraser both hitting the post and bar respectively. England managed to avoid their first international defeat of the season when Bannister again made room for himself in the penalty area and slotted home a well deserved equalizer. Everyone enjoyed what was an excellent advert for schools' football.
The match was held to celebrate 100 years of Schoolboy International football, which first began back in 1907, against Wales at Fellows Park, then home to Walsall Football Club. England won 3-1 on that occasion!
Congratulation must go to Phil Bannister (Monkseaton and Northumberland) who has broken the previous scoring record which was held by Jack Lester (4 goals in an International Season). Phil has managed to amass 6 goals this season.