U11 Small Sided National Finals
Tuesday 19 June 2007By ESFA Office
Last Updated:
13/11/2010 16:03:06
The National Finals of the U11 Small Sided Competitions were held on Saturday 16 June at Keele University, which again proved an ideal venue for the competitions. Playing conditions were excellent considering the amount of rain that had fallen in the previous 48 hours, much to the credit of the Keele ground staff.
The 8 finalists in each of the four competitions ensured that spectators were treated to a feast of high-class skillful football played in an excellent spirit with a high standard of sportsmanship and behaviour with plenty of goals.
The ESFA would like to congratulate the following competition winners: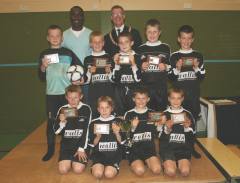 Clifton with Rawcliffe and Andrew Cole
U11 Boys' 7-a-side Schools' Cup
Clifton with Rawcliffe Junior School (North Yorkshire CSFA) Results & Tables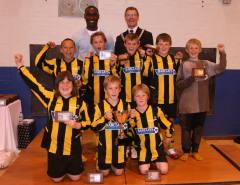 Mullion celebrate Cup joy
U11 Small Schools' Soccer Sixes
Mullion County Primary School (Cornwall CSFA) Results & Tables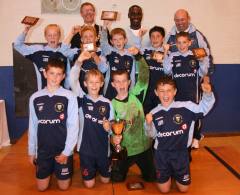 South Tyneside lift Trophy
U11 7-a-side Inter Association Trophy
South Tyneside Primary Schools' FA (Durham CSFA) Results & Tables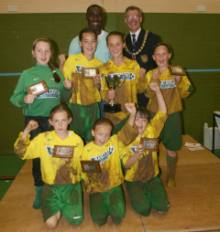 St Paul's girls crowned champions<
U11 Girls' 6-a-side Schools' Cup
St Paul's RC Junior School (Merseyside CSFA) Results & Tables
Fair play awards were presented to:
Aldborough Primary School (Norfolk CSFA)
Small Schools' Soccer Sixes
Wigan Schools' FA (Greater Manchester CSFA)
7-a-Side Inter Association Trophy
Grange Junior School (Hertfordshire CSFA)
Boys' 7-a-Side Schools' Cup
Hurworth Primary School (Durham CSFA)
Girls' 6-a-Side Schools' Cup
The Competitions were very well controlled by a team of sixteen referees actively involved in Schools' Football, which included a large number of young officials starting out on their careers in refereeing. Thanks go to:
Paul Robinson (Blyth); Stuart Kyle (Cramlington); Mark Hudson (Bury); Daniel Millington (Northwich); Mark Warren (Cheslyn Hay); Craig Taylor (Wednesbury); Chris Parkin (Melton Mowbray); Dave Parkin (Melton Mowbray); Ray Brown (St Blazey Gate); Craig Simpson (Bude); Steve Hames (Aberdare); Dale Hames (Aberdare); Thomas Ramsey (Brentwood); Steve Brown (Brentwood); May Milton (London) and Tony Milton (London)
The highlight of the day for all the young players was, without doubt the attendance of Andrew Cole who, with Chairman Nigel Brown presented the Awards to all players who participated in the tournaments and also to their team managers. Andrew, a former U15 England Schoolboy International, signed hundreds of autographs throughout the afternoon and was requested for many photographs, which he did without question to the delight of the young players and their team managers. The ESFA would like to thank him for his positive contribution to the success of the day and for making the event one, which all the young players will remember.
Photographs of the tournament are availble through RWT Photography