Thorpe St Andrew Girls Cup Joy
Tuesday 05 June 2007By ESFA Office
Last Updated:
13/11/2010 16:03:06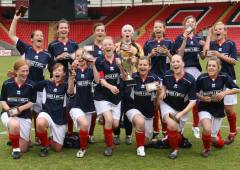 Thorpe St Andrew School celebrate with Cup
Thorpe St Andrew?s School (Norwich SFA) won the inaugural U15 Schools? Cup for Girls this afternoon after overcoming Archbishop Beck School (Liverpool SFA) 3-0 at Darlington Football Club.
Two goals in three minutes from Chelsea Garrett midway through the first half put the Norfolk school well in command. The first was a free-kick from the edge of the penalty area and the second was a well converted penalty after a Archbishop Beck defender handled in the area.
Alice Ladbrooke sealed a convincing win midway through the second half with another strike from the edge of the area to ensure that Thorpe St Andrew took the Cup back to East Anglia crowned champions of the country for season 2006-07.