U14 Girls Final: Toynbee 1-0 Bridgnorth
Tuesday 26 September 2006By ESFA Office
Last Updated:
10/02/2021 10:49:01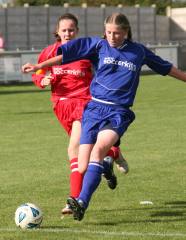 Toynbee and Bridgnorth girls
battle for possession at Cirencester
Toynbee School from Southampton became the 2005-06 U14 Girls' National Champions this afternoon after they defeated Bridgnorth Endowed School from Shropshire, 1-0.
The match was played in glorious sunshine at the new Corinium Stadium, home to Cirencester Town FC, in front of an enthusiastic and vocal crowd.
The only goal of the game came on 28 minutes thanks to a superb finish from Toynbee captain, Nicola Ferris.
Bridgnorth Endowed came back strongly in the second half and enjoyed the majority of the possession, with Emma Askins looking particularly threatening on several occasions. However, it was Toynbee who could have sealed the result three minutes from time, as Kaylee Senter raced clear of the Bridgnorth defence only to see her effort rebound off the post and the follow up shot saved well by the Bridgnorth goalkeeper, Jasmine Preece.
Toynbee managed to hang on to their slender one-goal lead to lift the trophy in front of the Sky Sports News cameras and the delighted supporters that travelled from Hampshire.
Coverage of the match can be viewed on Sky Sports News (Channel 405 for satellite users) tomorrow (Wednesday) at quarter to the hour, every hour.
Archived News
Seasons
Season 2006-2007
September 2006
26th :: U14 Girls Final: Toynbee 1-0 Bridgnorth