Schoolboy Match: England v China
Tuesday 22 August 2006By ESFA Office
Last Updated:
10/02/2021 10:49:01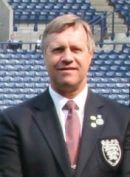 Tony Martin,
England Schools' U18 Manager
This week marks a new era in Anglo-Chinese relations with the arrival in England of the Chinese Schoolboys Under 18 football team. The visit follows the team's meeting with Prime Minister Tony Blair in Beijing recently when the PM emphasised the value and importance of cultural exchanges between the UK and China.
The visitors from the Far East are being hosted this week by the English Schools' Football Association at the University of Keele in Staffordshire where they are staying and training.
The climax of the week is a match against an English Schools' Under 18 team on Thursday 24 August at Newcastle Town FC, Newcastle-under-Lyme the first time the two countries will have met in a friendly schoolboy match. The game kicks off at 7 pm. A match report of this game will be posted on this site by Friday1 September.
The England squad for the match will be selected from an initial trial squad of 63 players who are this week taking part in a national coaching and development course at Keele University.
The tour has the full backing of both governments. In the UK, the Sports Minister Richard Caborn and the Education Secretary, Alan Johnston, have endorsed the tour.
No entry fee will be charged for spectators wishing to attend the game.
Directions to the Lyme Valley Stadium:
Travel up the A34 to the Hanford flyover (A500). Continue on the A34 and shortly after passing the Tesco Supermarket on your left you will see a signpost for Newcastle Town FC (just before Orange Tree Pub). Turn into this road and follow it round, before you will see another sign for Newcastle Town FC. This will take you into Tittensor Road and the entrance to the ground is on your right.